This Thanksgiving I'm thankful for a bomb career, my mom's yummy pumpkin pie, and most of all, Style Salute's holiday fashion guidance. For many of us, Thanksgiving is the first big appearance we will make to family and friends for months, and maybe even years. So it makes sense that we put some serious thought into our Thanksgiving outfit. Don't you think the pilgrims and Native Americans wanted to impress each other when they gathered at the first Thanksgiving feast?
When it comes to Thanksgiving Day outfits, I have to tell you that not all outfits will work. Some of us love wearing fitted clothes, some like body-hugging clothes, but for this holiday, the best idea is to keep your outfit cozy, chic, and thoughtful. That said, we know that finding the perfect outfit to wear is the ultimate challenge especially since many of us will be dining outdoors to address any COVID-19 safety guidelines. A long day filled with plenty of second helping make comfort definitely a priority when it comes to dressing but you still want to look cute the whole day and night. Thankfully, the world of bloggers and It girls on Instagram can offer us lots of inspiration; and they rarely disappoint.
In case you were looking for some Thanksgiving outfit ideas, I've rounded up some of the best looks from my favorite bloggers and It girls. From Arielle Charnas to Pernille Teisbaek and more, just keep scrolling to see and shop the looks that made the cut.
1. Black Jeans + Black Top + Colorful Shoes
For a chic but comfortable Thanksgiving Day outfit, Arielle's simple ensemble (sophisticated black jeans and a black top and chic Gucci suede ballet flat with web bow) are ideal.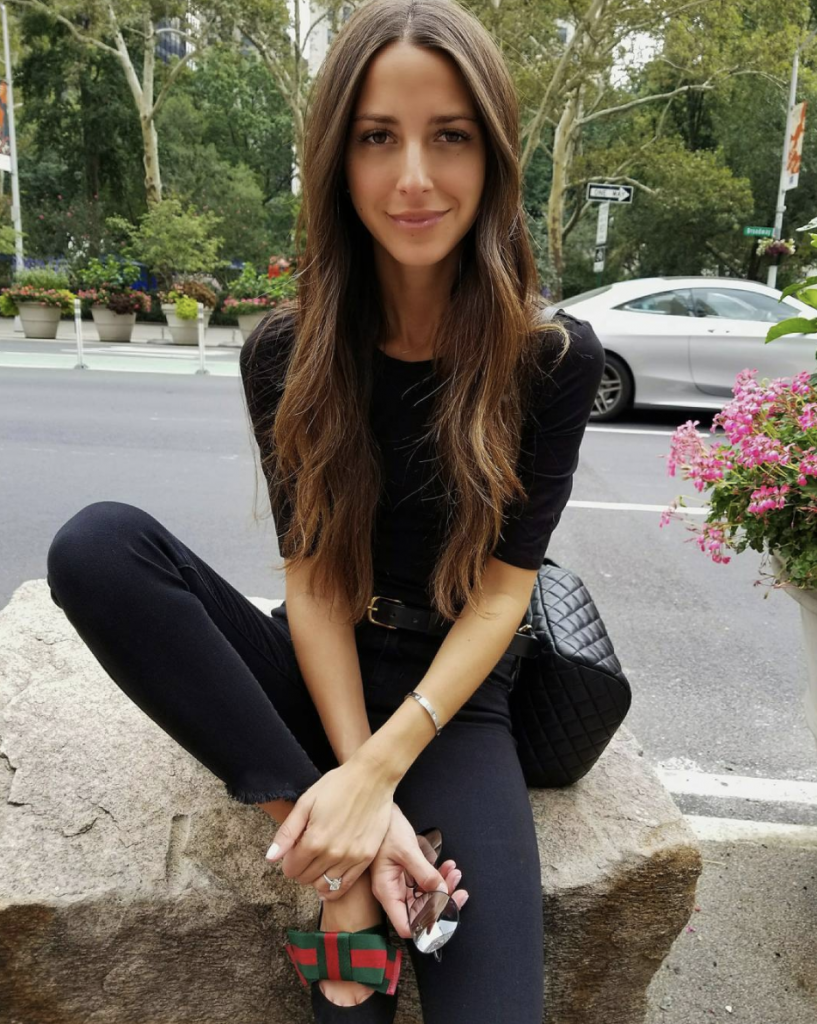 Shop

2. Short A-Line Skirt + Grey Top + Leather Jacket + Scarf
Barbora's outfit is perfect for a family stroll through the crisp autumn weather. Her black leather jacket, black skirt, and scarf will keep you cozy and stylish.
Shop

3. Statement Sleeves + Fuzzy Vest + Corduroy Pants
You certainly will make a statement amongst your relatives when you take Carly's advice for the perfect trendy Thanksgiving outfit. We are in love with her statement sleeves, comfy vest, and fabulous corduroy pants.

Shop
4. Fun Sweater + Jeans + Heeled Boots
Pernille's outfit says there's no better way to ring in the holidays and sweater weather than with your favorite oversized sweater, flared jeans, and boot heels.

5. Flare Jeans + T-Shirt + Blazer
Looking to go back in time this Thanksgiving? Amy's flared jeans, simple top, a dressed blazer, and booties will make your Thanksgiving groovy.

Shop
6. Printed Dress + Over the Knee Boots
A fun printed dress and over-the-knee boots will make for a girly Thanksgiving, while not going too formal.
Shop

7. Oversized Sweater + Ankle Boots + Leather Handbag
Lorna has the ultimate cozy yet stylish Thanksgiving outfit with an oversized sweater, camel coat and boots. Her leather bag is essential for carrying leftovers home.

8. Blazer + Black Top + Skinny Jeans
Petra's look here is sophisticated enough to impress your boss and co-workers at the Thanksgiving park potluck or your first family Thanksgiving picnic style.

9. Leather Jacket + Midi Skirt + Boots
We love how effortlessly stylish this look is. A simple black leather jacket is all it takes to elevate any outfit.