Everyday life is jam-packed. Between work, personal life, side-hustling and pursuing personal interests, there's a limited amount of time to read about current events. Social media has become a main news source, but with "fake" or even just biased news being forced into our news feeds, it can be challenging to scroll through the fluff and get down to the brass tacks.
While it can be hard to find the time to read the news every day, it is certainly important. Have you ever had that moment? I think we all have. That moment when your colleague, acquaintance, or family member wants to discuss what's happening in the world, and you have no context?
If you're one of the 7 million people who read the theSkimm, you know this news source breaks down the day's key stories in a digestible yet smart format. That's why I was so excited to find out about The Skimm's newest podcast, Skimm This.
In a quick and easy 10 minutes, Skimm This not only talks the day's top stories from around the world, but also goes into why it matters.
After listening to Skimm This during its' debut week, I've officially become a devoted listener.
Scroll through for 3 reasons why Skimm This is all that.
1. You can multitask while listening to it.
I have a routine every morning. I wake up, work out, shower, and drink my coffee while I finish getting ready. This precious time is when I listen to my favorite podcasts. Now that Skimm This has launched, I can learn about the day's top stories, explained, all while doing my hair and makeup. Talk about convenient.
2. You'll have a conversation starter.
Stuck in a quiet elevator ride with a coworker you don't know that well? Talking about current events can be a sound way to ease the awkwardness. Who knows, you might even make a new friend.
3. Each episode is packed with the most important stories of the day, all in 10 minutes.
It's so easy to find a 10 minute block in your day, and even easier when you can listen while driving, working, or making breakfast. Who wouldn't want to be in the know, especially when it's so easy.
Don't just take our word for it, try it for yourself!  Listen to "Skimm This" at 5pm EST every weekday.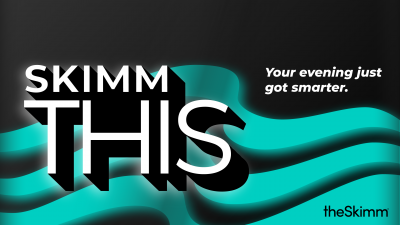 Next up, check out the one money-habit all wildly successful women share.