Every girl knows that New York is the mecca of hot trends and styles. Dressing like the women of NYFW is quite simple if you have the right statement pieces and accessories. Whether you're into all black all the time, or in search of the perfect cashmere sweater, fashion of the city is easy to implement into your own wardrobe.
Fall fashion in New York just about makes the ensuing chilly temperatures worth it.  Even though cool-weather clothes are coming out of storage, certain pieces from the spring and summer (like bodysuits) can stick around.
Edgy pieces like ripped jeans and white ankle boots show off every girl's style and unique personality. This pair of Levi's will look good on every woman.
Keep reading for NYC inspired ways to dress for fall.
A CAMEL COAT

WHITE ANKLE BOOTS

Pair white ankle boots with any color jean for a trendy and smart look.
PLAID JACKET

Throwing on a warm plaid jacket is such an effortless way pull your whole outfit together.
LOGO T-SHIRT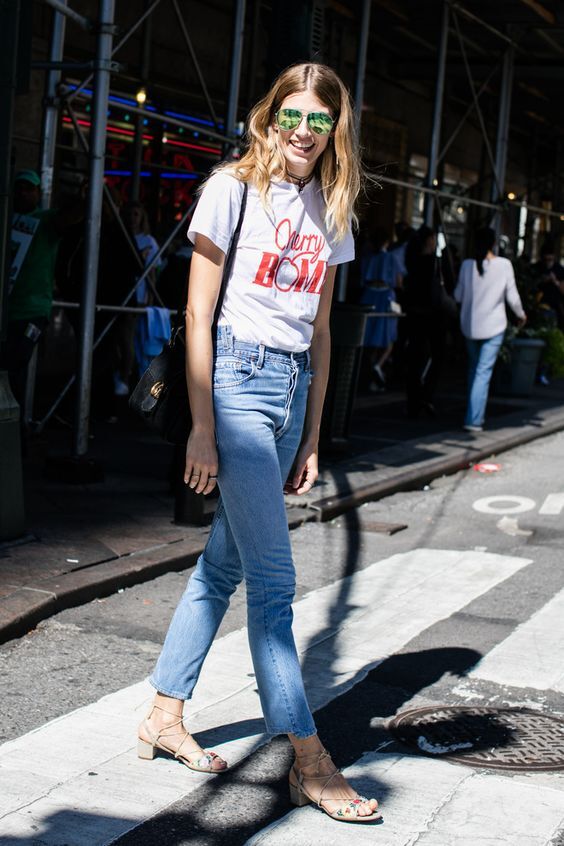 Logo tees are back in style throughout the seasons. Wear it during the day and throw on a sleek leather jacket at night.

FAUX FURRY COAT

Faux furry coats are chic and easy to add into your rotation for fall and winter months.
OVERSIZED SWEATER

Comfy, cozy, and completely on trend.
SUEDE SKIRT

Throw it back to the 70's with a stylish suede skirt.
KNEE HIGH BOOTS

Knee high boots will empower you to feel cool and confident.
DUSTER
The duster trend is still going strong.
HIGH RISE DISTRESSED JEANS

These cool girl jeans are edgy and easy to pair with.
For everyone who still has no idea what to wear to Thanksgiving dinner—9 outfit ideas that are both cute and comfortable inspired by bloggers.
---
Want to conquer your future?
You'll need a financial plan for that. Here's a free one.

Opening image: We Wore What