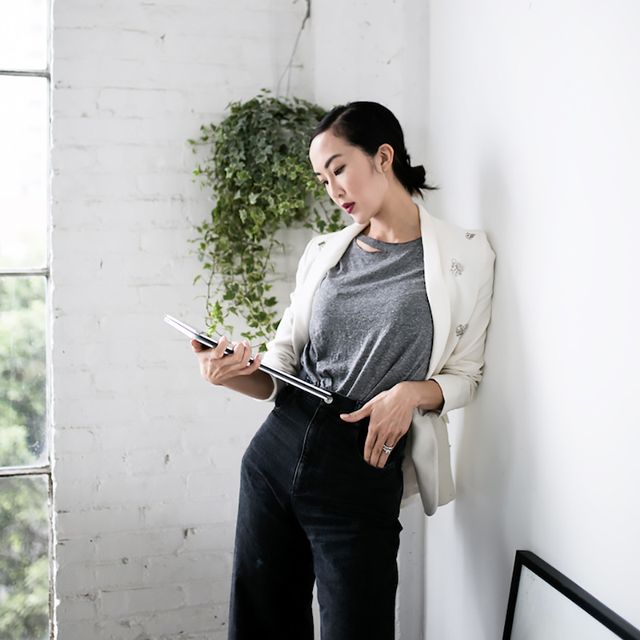 If 2017 was the year of #MeToo, then 2018 is shaping up to be the year of #TimesUp—a movement started by 300 distinguished women actors, directors, and producers, including Rosario Dawson, Eva Longoria, Shonda Rhimes, America Ferrera, Emma Stone, and Jennifer Lawrence, among others to take down sexual harassment and end injustice against women.
While pundits and journalists posit the question, "Is 'Time's Up' the next phase of #MeToo?" those within the movement already know it is. But, more than just being a response to the "Me Too" movement on social media channels like Twitter, Instagram, and Facebook, "Time's Up" offers up a dynamic mission to end the era of misplacing, taking advantage of, and victimizing women physically, emotionally, mentally and financially. Powerful women are now using their collective clout and economic power to catalyze real change together for women around the world.
Complete with sisterly solidarity, a legal defense fund, and millions of dollars in donations from women and men around the world, the #TimesUp campaign has been far more than a cry for help or a mere attention call to injustice—it's a call to arms for women across the globe who are tired of the status quo in any industry, not just Hollywood.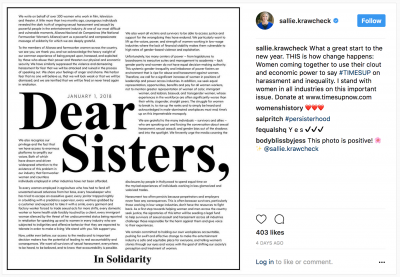 That's right, the work is not done. We have a long, long way to go.
Why Time's Up wields more power
The "Time's Up" campaign is a crusade to help women in what are typically less powerful positions, like blue collar jobs at restaurants, hotels, factories, and farms, among other parts of the workforce. The idea is to get women the emotional support and financial help they need to face their aggressors while also funding progressive new legislation to support zero tolerance for sexual misconduct and harassment in workplaces across the country.
The "Time's Up" action plan includes funding for gender equality within Hollywood's many niches, including talent agencies, film studios, and even the cutting room. And, #TimesUp is mustering awareness by asking the women of Hollywood's elite to wear black on red carpets like the one at the Golden Globes this past Sunday night.
But, while it's critically important to help women face the influential people who abuse their power and mistreat and attack women, it's also crucial for women to grow their own power by knowing how to save for their future, how to plan for retirement, and how to intelligently invest with access to all the same tools men have access to.
Yet, even in 2018, investment firms and financial planners don't offer tools for saving and investing money tailored specifically to women.
Enter Sallie Krawcheck, the most powerful woman on Wall Street, and CEO and co-founder of Ellevest, an investment platform designed with the modern woman in mind.

Krawcheck does more than just explain why and how women's financial needs are different than those of their male counterparts — she has successfully brought to market the tools and technology for investment that women today need to grow, manage, and maintain 401(k)s, individual retirement accounts (IRAs), private wealth, and other funds.
The female-led team at Ellevest knows that nearly 90 percent of money managers are men in their 50s. Women need women financial advisors, and Krawcheck understands this in a way other investment firms simply do not. Krawcheck notes, "We're not your dad's old investing firm—and we're not a tech-bro startup either. We're busy waging war to help you close your personal 'gender investing gap' and take control of your financial future."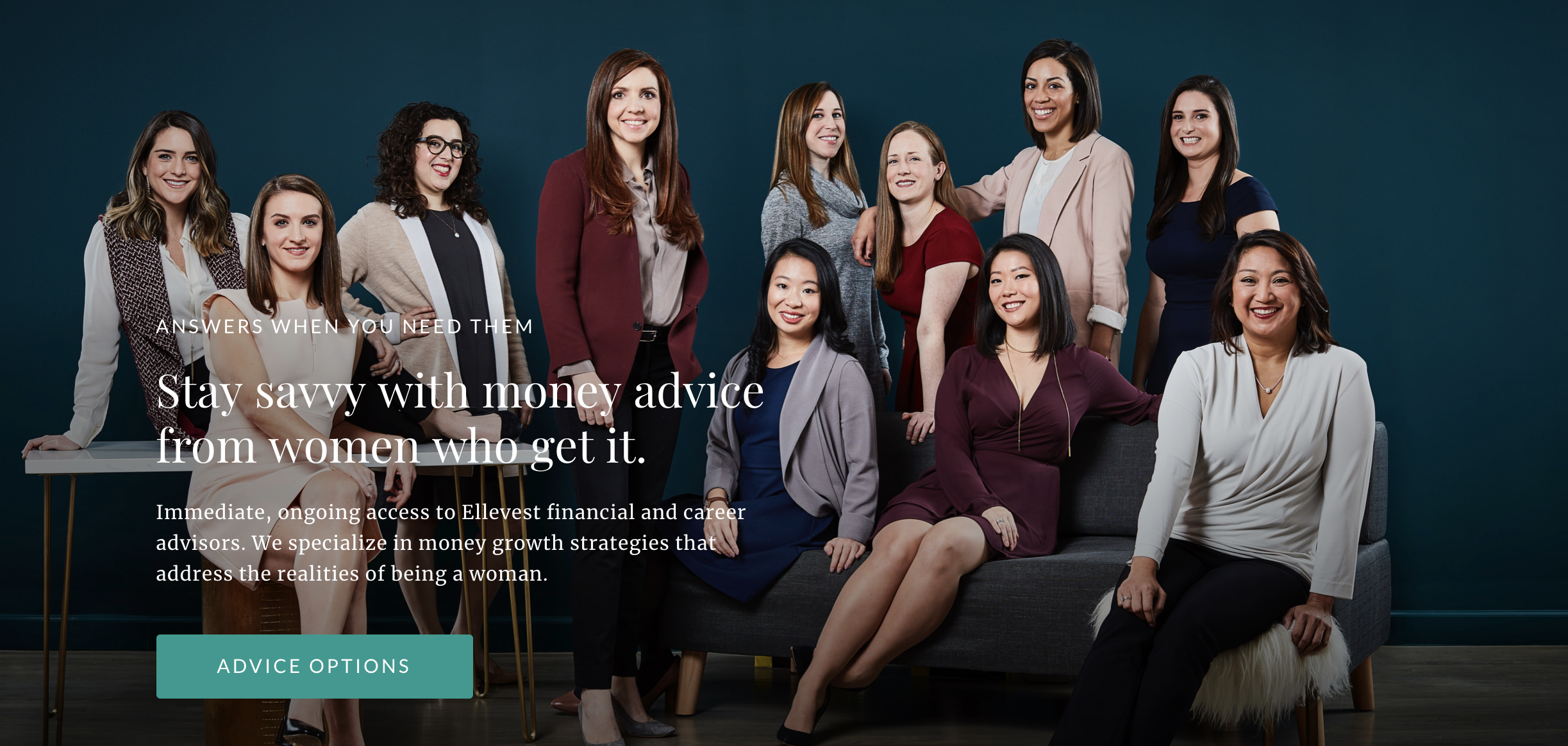 Financial power is true freedom for women in every walk of life.
To maximize your efficacy within whatever sphere you operate, you must have financial autonomy, and you must be able to manage your investments and wealth. Because when you understand how investing works and know how to put a dollar to work, you become a powerful agent for change.
This is the part of the "Time's Up" movement that puts you in charge of your destinies because it empowers us to make all of our own decisions.
With powerful ways to enhance personal revenue like Ellevest's "Yes, ME!" wealth building plan and investment tools like Ellevest's recurring contributions and goal-targeting, women learn to invest while living within their means and balancing their budgets wisely.

But this is not the first time you've heard us discuss financial freedom. Financial feminism is something you need to be a part of.  As we wrote in an earlier foray into women in investing, women now control more than 50 percent of the wealth within the U.S., according to the National Institute on Retirement Security.
So, doesn't it make sense that there would be more women in the financial planning sector and that there would be more tools for investing that cater specifically to women?
Ellevest is unique in that way that it offers savvy with money advice from women who get it. They specialize in money growth strategies that address the realities of being a woman.
Ellevest is advancing the way women want and need to invest.
Sallie Krawcheck and Ellevest understand how to make women's money go further and last longer. What's more, Ellevest is all about making investments work to make women more powerful by growing the money they've invested in themselves.
For hundreds of years, women [we]  have been told to put themselves last and everything else on their to-do list first. Ellevest stomps this cultural fallacy out by offering women everything they need to start investing in tomorrow, today.
Krawcheck explains, "We're incredibly proud of what we've built behind the scenes. These are the industry-tested, Ellevest-enhanced concepts and tools at the heart of every customized investment portfolio." Ellevest is about so much more than stuffy rooms filled with leather chairs where women are separated from their money by men sitting behind bespoke mahogany desks. Ellevest stays with women every step of the way, offering them advice on consolidating retirement accounts, customizing accounts, and creating goals that work for unique individual women.
Access to a team of female-led financial professionals who can help shape how your money works for you is an important cornerstone of the Ellevest platform. By phone, email, or text, your financial concierge is right at your fingertips when you need their advice on financial decisions of any size or scope.
Begin your personal #TimesUp campaign and become a catalyst for positive change by speaking with the Ellevest Concierge team today. You'll continue to enjoy unlimited support as you grow your portfolio and your personal wealth regardless of where you are with your career or finances.
This is your chance to reach for the brass ring and obtain the kind of financial freedom that gives you the authentic power to shape your own destiny. So, keep tweeting and snapping inspiring photos for Instagram, but have a plan for your future and retirement. You can get yours once you sign up with Ellevest. And it's always  because what's most important to us is that you're planning for your future.
Ready?

For more money saving tips, see 5 transformative money resolutions – and how to achieve them. 
Disclosures: We're excited to be working with the team at Ellevest to start this conversation about women and money. We may receive compensation if you become an Ellevest client. 
Opening image: Chriselle Lim