You know the old adage: Money doesn't buy you happiness. This certainly may be true in many aspects, but recent research tells us that overall health and happiness may have more to  to do with your financial security than you think.
So, can money really buy happiness?
Perhaps not, but saving and spending money wisely can make life less stressful and add more joy to your life. If your healthy self is going to be living a long life, you'll need the wealth to get you through retirement.
Blackrock's recent report uncovers the connection between well-being and wealth, and we're diving into it. Blackrock conducted the survey, which included 120 in-depth conversation and and 27,000 additional responses, with quotas on gender, age, and health.
The report results speak to what we already know about well-being and wealth: that good health and good finances are related. When one gets better, so does the other. So, what is the real connection and how can we have both?
Keep reading as we get deeper to understand the connection between your wealth and well-being. And why you feel the way you do.
The big connection
Healthy people take care of themselves. They eat well, exercise, and practice self-care. Taking care of your finances can have the same benefits. Often, taking care of health issues can be costly, and having the financial security to preventatively and reactively take care of oneself is SO important.
According to the American Psychology Association, "women report higher levels of stress about money than men." Adding to this is the fact that 1 in 5 Americans say they have either considered skipping or skipped going to the doctor in the last year…because of financial concerns." The connection between financial security and overall well-being stems from taking control of your life in one way, and gaining confidence in the process.
What did the survey results find?
When people take a step to invest, they create a greater sense of well-being today.  That's true regardless of affluence, age, gender or life stage.
But even with financial confidence and optimism on the upswing, people aren't investing — especially women. Despite findings that 43% of people that invest feel more optimistic about their futures, Blackrock found that 57% of people are NOT investing money into stocks or bonds. Some of the cited reasons included being "more interested in achieving short-term goals" and "afraid of losing it all." People also had the common sentiment of feeling that they are too worried about their financial situation today to think about the future, and that investing is too overwhelming to get started with.
How to have wealth and health?
The truth is that investing and a greater sense of well-being are attainable for everyone. The survey cites further research that by taking small steps towards investing, you can feel good now and in control of the future. In fact, 30% OF non-investors who are not invested want a way to try out investing with a low money commitment.
The way forward
Make this the year you start investing, even just a little bit. If you're just starting out, choose an investment service with a $0 minimum and low fees that is a fiduciary , meaning they are required to act in your best financial interest. Then start investing as soon as you've paid off any bad debt.
Not sure how much to invest? The 50/30/20 rule is a great one — and if you're not there yet, it's one to aim for.This is the inequality we can start working on all by ourselves. With that in mind, Blackrock put together 4 steps that lead to financial well-being.
 1. "Make a little go a long way."
Micro-investing (investing small amounts of money) can lead to a greater return than just letting it sit in a savings account where it isn't working for you.
It's possible (and smart) to invest even small amounts of money. Many people start off investing this way, a little at a time, and financial firms understand this. That's why Ellevest is giving Style Salute readers (that's you!) a $25 toward your first funded goal​ if they start investing today. 
There's a common misperception that in order to invest, you need to first be rich. That's not true. You can open an account with with Ellevest for $1.
Ready to open your investing account? Follow the link below and you'll be taken to Ellevest for more information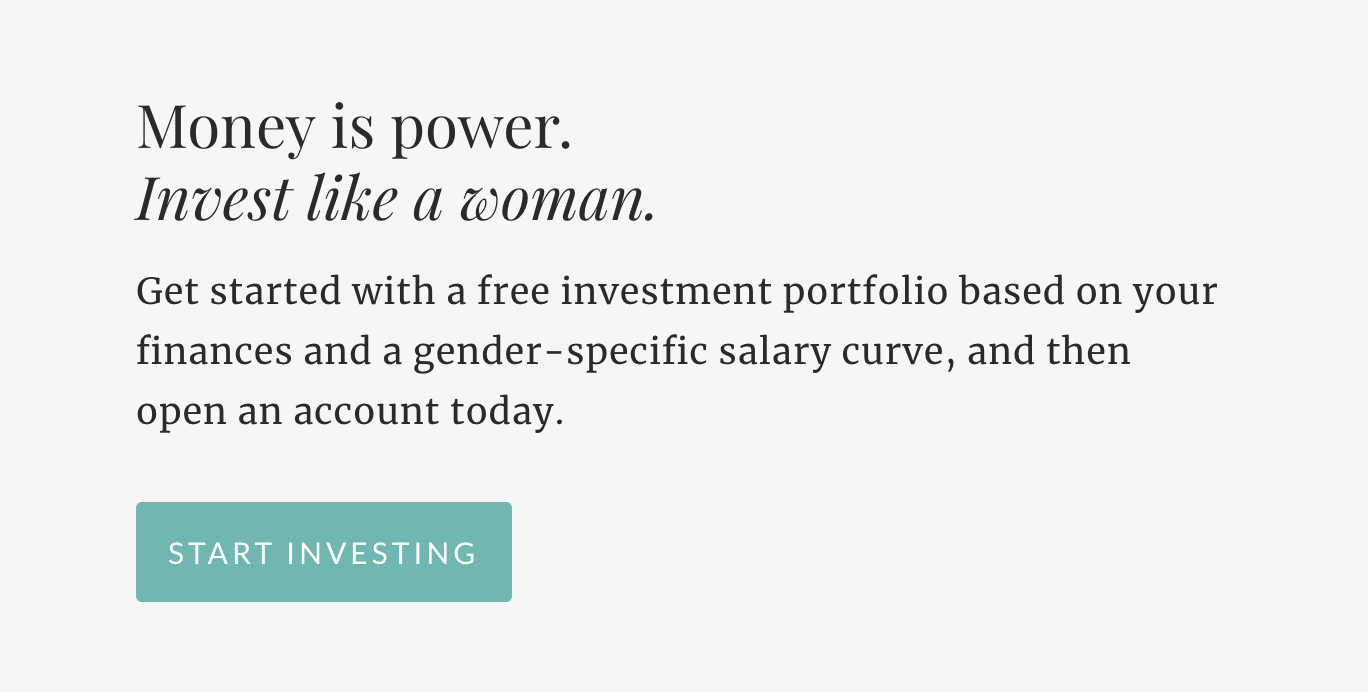 2."Find a good teacher."
According to the survey, 76% of investors that use a financial advisor reporthaving a positive sense of well-being.
Start a relationship with a financial advisor who will work with you and for you. If you feel like you don't have all the answers, advisors know how to educate. Working with a financial advisor you trust is important for reaching your long-term goals.
3. "Balance the short-term and long-term."
41o5 f non-investors say they would feel better about their finances if they could better balance their needs today with their needs in the future.
It's important to keep in mind all goals when starting to invest. Building your wealth for retirement is important, but so are your short-term goals, whatever they may look like for you.
4. "Don't wait too long."
69% of non-investors recognize that their future outlook would be better if they started investing now.
Planning for your future by investing your money shouldn't be put off till tomorrow. It's one of the most important things you can do for yourself.  When you invest your hard-earned dollars can grow faster than if you were to keep it in cash or a savings account.
The sooner you start investing–even small amounts–the longer your money has to grow.
Of course, markets can be volatile but research shows that over the long-run staying in the markets will help your money grow. A lot more so than keeping it in cash.
To learn how to get started investing for women go to Ellevest and get your free financial plan (a great way to see if you like it).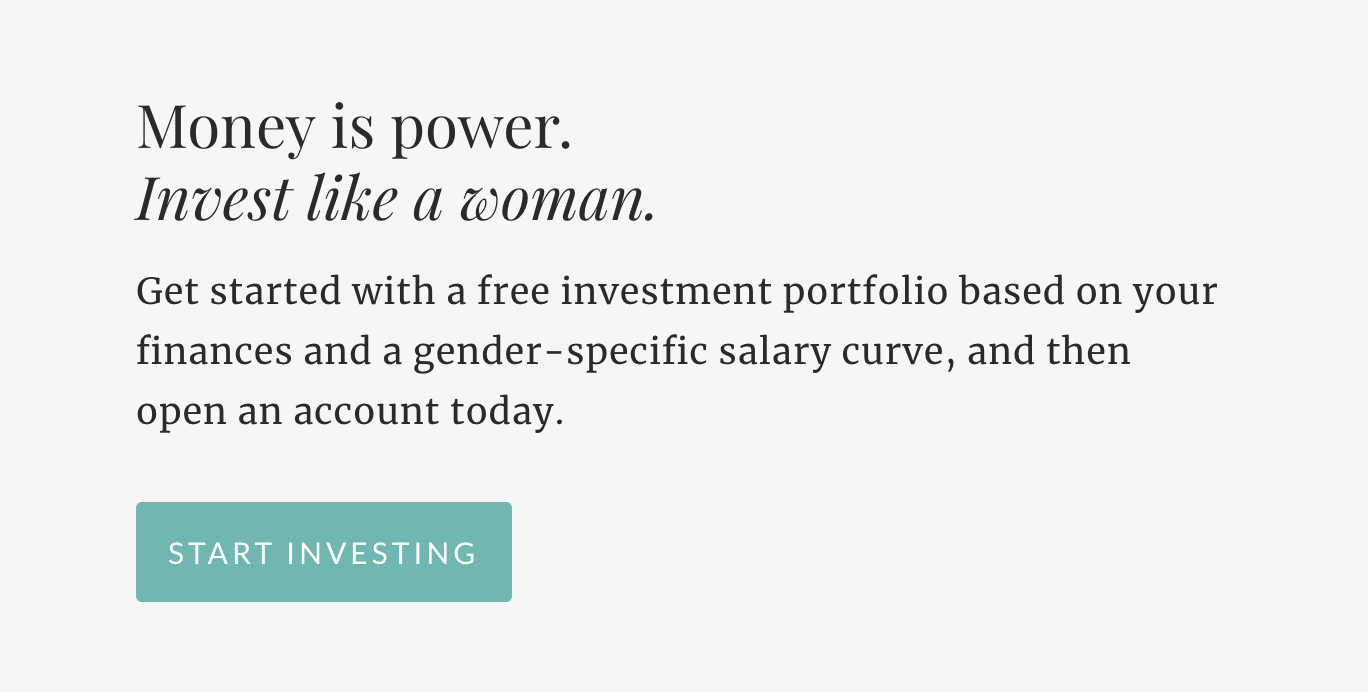 Next up, how to get what you want in a negotiation.
Here are more money topics for you…
The One Money-Habit All Wildly Successful Women Share
The Money Advice Every College Grad Needs to Hear
7 Smart Money Moves to Make in Your 20s
Disclosures: We're excited to be working with the team at Ellevest to start this conversation about women and money. We may receive compensation if you become an Ellevest client.