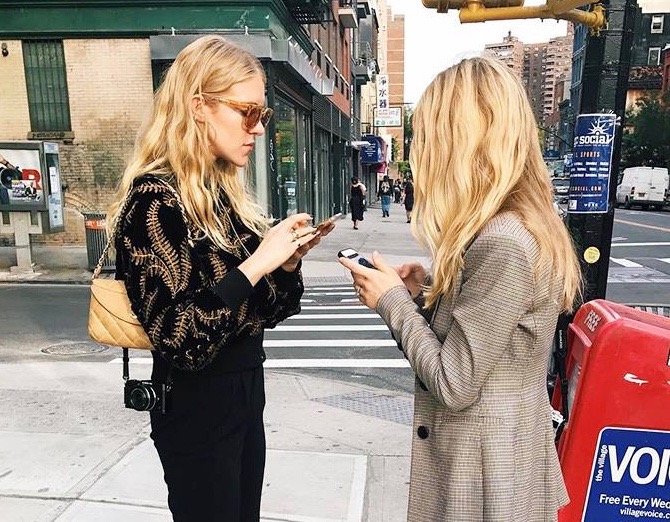 "Money is power, and honestly, ladies, the guys have more of it than we do, "Sallie Krawcheck, CEO, and co-founder of Ellevest, an investing and financial planning service created by, for and with women, has said time and time again.
Money plays out in politics; it plays out in the way companies manage (or don't) allegations of sexual harassment, and it can even play out in our personal relationships at home. Money is power: The society we live in is a capitalist one, and money runs it.
To level the playing field for women, we're teaming up with Ellevest on economic empowerment. Read on to get empowered. 
True Equality Includes Financial Equality
As we work to achieve equality for all women, we're also aware that true equality includes financial equality.  You've likely heard about the pay gap — but did you also know that there is an investing gap too?
And that gap exists not only between men and women — but between women, with the median wealth for women of color at just pennies on the dollar compared to white men and white women. This needs to change. And change starts with you: While we at the Style Salute believe in fixing the institutions and systems that created the gaps, we also want YOU to be economically empowered today.
The Importance of Saving and Investing Today
The best time to invest? Yesterday.
Saving and investing —  even if it's $5 a month — can have huge economic impacts over your lifetime. The world of investing has been male, and white for way too long and that has left women (especially women of color) at a disadvantage — and with less money. That's why we're excited to introduce our collaboration with Ellevest.
Here are the facts: women live longer, we earn less — and, we need to account for that while preparing for the future. So, ask for that raise you deserve, negotiate when you're applying for that job, set a budget for yourself (we recommend the 50/30/20 rule), talk about money with friends, partners, colleagues, family, and start investing regularly.
We're asking you to focus on your own economic empowerment. When you invest in Ellevest Impact Portfolios, you invest in your own goals – and in companies that advance women. LEARN MORE

Invest in Women. Starting with Yourself.
At the core, impact investing is designed to effect positive social and economic change. At Ellevest, this is done through impact investment portfolios that work to advance women. With these, you could earn a competitive return so that you can reach our goals — like starting a business, buying a home, starting a family, and retiring comfortably — by investing in other women (brilliant, right?).
So, rather than lusting after the latest Chloé bag or throwing money into that last minute weekend getaway — put it towards your goals.  In order to glean more into what impact investing is and how it works, I sat down with Sylvia Kwan, CFO of Ellevest to talk about how they invest for you, with $0 minimum and low fees.
Keep reading below to learn how we can #DisruptMoney and make things better and fairer for women.

They Believe in the Power of Women
"Not only are companies led by women more successful, but women leaders hire more women and pay women more.  We also direct trillions of dollars in consumer spending (think about it who makes all the grocery decisions and spending decisions); one estimate has women directing $72 trillion by 2020. So we can do this; it won't even be hard. We can change the game."
They Believe In The Power of Smart Tech
At Ellevest, impact investments are specifically designed to generate measurable, positive social and/or environmental outcomes — with a focus on advancing women. Through these funds, Ellevest actively supports businesses that work to improve the environment, support and advance women, and enhance lives around the world.
Here are examples of what investments in the digital Ellevest Impact Portfolio include:
Funds that support growing small businesses owned by women and other underrepresented populations.
Funds that invest in companies that care about sustainability, value transparency, and good governance, and promote social responsibility (ESG).
Here's the rundown:
How You Can Start Saving: Putting away money every month is super intimidating — especially if you're an hourly worker, paying down student loans, or helping out family members. We get it. But starting to save and invest — even if it's a small amount to starts — will be game-changing over your lifetime.

Investing by Women, Starting with Yourself: When you invest in Ellevest Impact Portfolios, you put your money in funds that invest in companies with more women leaders and policies that help women–and in companies that provide loans to diverse women-run businesses.
No Mahogany Desks: Ellevest's investing algorithms factor in gender differences in pay, career breaks, and lifespan to serve women's needs better.
They Believe In The Economic Power of Women?
As more women invest, we will demonstrate through our collective force that we believe in each other enough to invest in each other — whether we can invest $1 or we invest millions. We will show our economic power by choosing investments that advance women and help improve our world.
In fact, management consulting firm McKinsey finds that the global economy could be between $12 trillion and $18 trillion larger in 2025 if women were employed at the same rate, in the same roles, with the same pay as men. $28 trillion??? That's bigger than the gross domestic product of any single country on this planet, including the United States and China.
In other words, investing in women is good for business, good for the economy, and good for people of all gender identities. Win-win. Please join us. You can learn more here.
Simple. Adaptable. Practical
Our impact investments look at companies not just for their earnings potential, but also by how well their environmental, social, and governance (ESG) practices are lined up."
Here are some examples:
Companies with high environmental standards
Companies that hold high social standards
Companies with high governance standards
So, you might be asking now why that matters for women.  It matters for women because investing in companies with an ESG lens helps advance women because all of those factors — environment and climate change, poor governance and corruption, unequal pay, and the lack of gender diversity — all have a disproportionately higher effect on women.
Let's do this. Women direct trillions of dollars in consumer spending. It's time for us to use our financial power to change the money for all women (more on why here). So, by investing in companies with high ESG standards, we're not only making money, we help to advance women around the world. And that's worthwhile all by itself, of course. But at Ellevest, they believe even more strongly that the impact of doing so drives positive social and economic change for everyone — all while offering the opportunity to earn competitive returns for investors.
Working to put more money in the hands of more women isn't just the right thing to do — it's the smart thing to do. And it's time.
Let's disrupt money. Together.