I bet you have all heard of the gender gap to some extent. But, what does it means for you?
According to the Global Gender Gap Report, when economists speak of the "gender gap" these days, they usually are referring to systematic differences in the outcomes that men and women achieve in the labor market. These differences are seen in the percentages of men and women in the workforce, the types of positions they hold, and their relative incomes or hourly wages. So, you know there are inequalities, but do you know on average, how much do these gender gaps cost you?  You may want to brace yourselves for this because the truth is shocking.
"Presently, women in the U.S. face a gender pay gap where they make 80 percent of what men make for doing the same job, and it's even less for many women of color," says Sallie Krawcheck, the CEO of women-led digital investing platform Ellevest on a new episode of MAKERS Money.  Specifically for women of color, the gap is even wider: In comparison to a white, non-Hispanic man's dollar, African American women earn only 64 cents and Latinas just 55 cents.
This number portrays a macro view of the gender pay gap and is subject to many factors outside of gender, such as age, experience level, and industry.  Crazy right? And that's just referring to gender pay gap alone.
So what is a savvy, forward-thinking woman to do?
Krawcheck recommends that first you do some research and find out how much you're worth.  "Start with Comparably, which provides average salary data specific to your industry, function, and geography in under a minute. Hired.com will show you up-front job offers from potential employers including compensation numbers after you've answered a few questions. GetRaised takes you one step further, not just with calculations of your pay gap. "
We're not done. There's another gender gap that can cost us women even more over our lifetime: It's the gender investing gap. The gender investing gap can cost us, women, hundreds of thousands of dollars (for some us even million) — and one of the most powerful actions we can take is to invest our hard earned money.
Krawcheck has some thoughtful insight on this, asserting that not investing is the precursor to the gender investing gap. When you leave your savings in cash, you may miss out on market gains that could be earned over time, and even worse— inflation actually lessens your purchasing power," she says.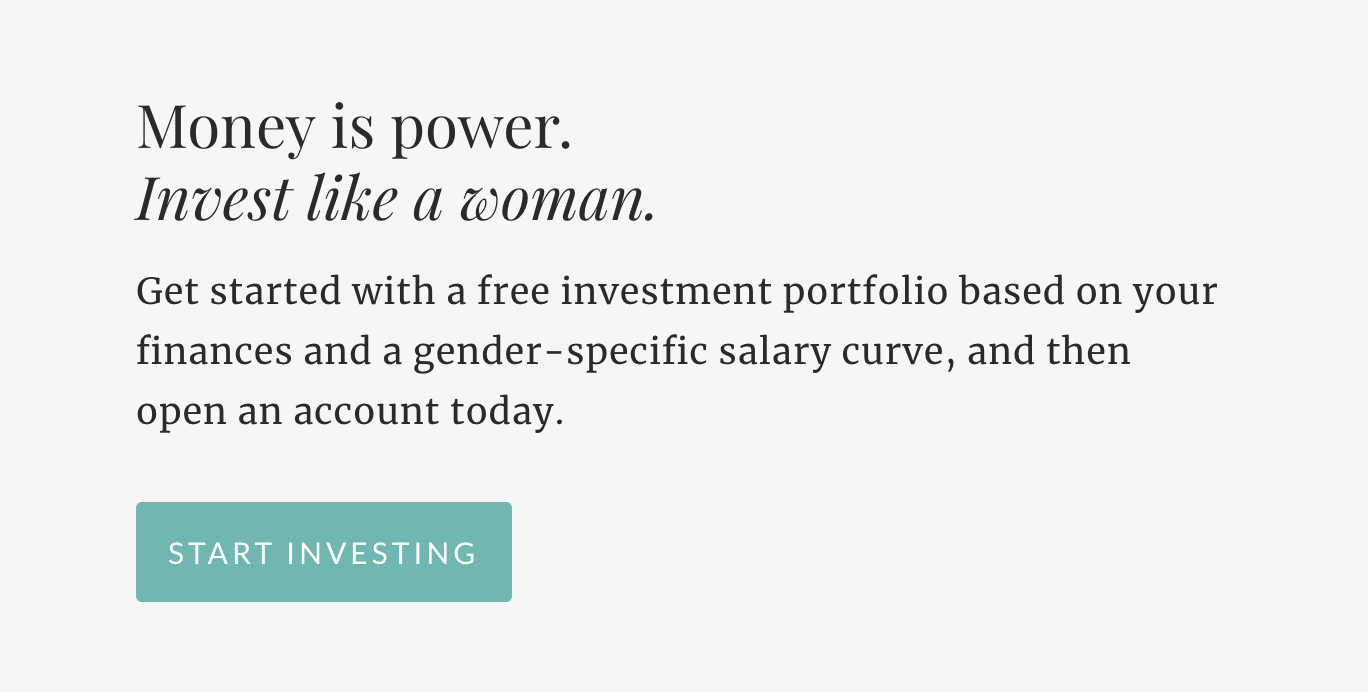 In fact, investing — when done right — is one of the best ways to make your money work for you and your future. "It's not about beating the market — it's about reaching your goals," says Sylvia Kwan, Chief Investment Officer at Ellevest on their investment approach.And, it doesn't have to be so complicated. Ellevest was founded on the principles of simplifying and personalizing investing for women ⏤ and in turn, crushing the gender investment gap.
Are you ready to get on board? You can get a complimentary financial plan from Ellevest today — it takes less than 10 minutes. Plug in a few basic stats about your self and Ellevest will generate a customized investment plan that you can act on immediately or set aside until you're ready.
What if you don't have much to invest, should you still bother? Short answer: Yes. Long answer: Hell yes!  Ellevest has no minimum so you can start investing with as little, or as much as you like. So, wherever you are with saving, get started by getting your complimentary financial plan from Ellevest today —  you literally have nothing to lose.

Now that you're ready to take control of your financial future, scroll through for 12 desk accessories every girl BOSS should own.