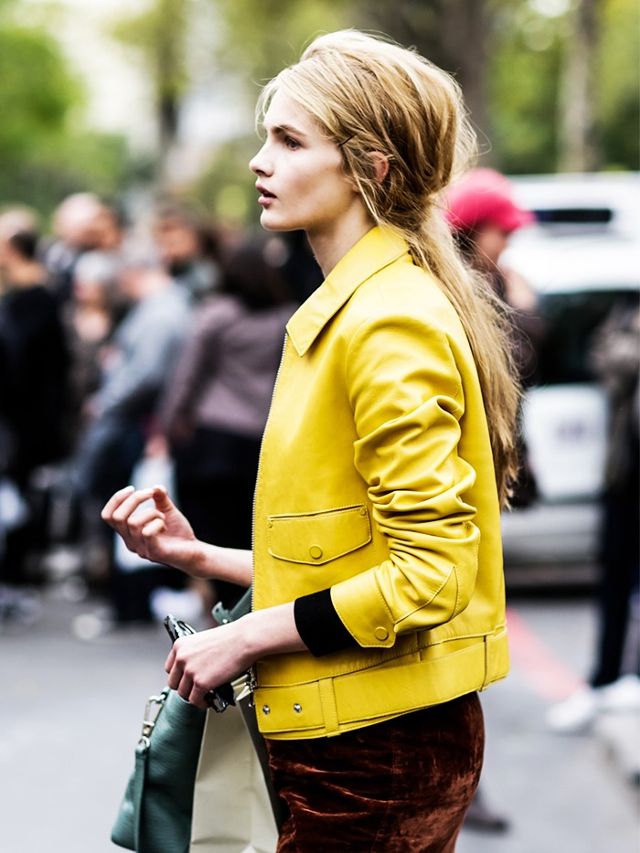 You've worked hard, been an absolute boss babe—and certainly earned it. But now the question is, what are you going to do with that extra cha-ching?
Yes, those new Stuart Weitzman boots would look fabulous on you, and we know you've been eyeing a new Chloé Faye shoulder bag for a while. However, if you choose to spend this extra bit of money to boost your bank account in more meaningful ways, you'll be setting yourself up for the rewards later.
If you want to know what successful women did with their money when they were in your shoes (pun intended), we can almost guarantee you that they chose to invest their holiday bonus.
Investing is hands down one of the smartest things to do with your money, and what's more, despite what Bitcoin enthusiasts would have you believe about investing your money, it isn't as complicated as it seems. In fact, according to our friends at Ellevest, an automated investment platform for women, you don't have to pick stocks or "beat the market" to start investing. Want to start your own business? Go on a trip around the world? Get an advanced degree? None of it's possible if we're not in control of our money or working toward these goals financially.

Especially since women tend to make better investments than men—not that we needed any more proof that anything men can do, women can do better. One of the difficult parts of investing is deciding when you are officially ready to start. Knowing that we did some digging to find out when is the best time.
"The best time to invest is now, actually, it's yesterday, but don't be defeated," says Sallie Krawcheck, co-Founder, and CEO of Ellevest.  "If you've paid off your bad debt (such as your credit cards, department store cards etc.), have a good amount set aside for emergency fund, consider using your newfound check to invest in the stock market.
But, let's take a step back. "What's the difference between good debt and bad debt?" you may be asking? A lot.
GOOD DEBT—One form of potentially good debt can be student loan debt. "A great education can lead you to a more interesting job and can forever increase your earnings. The interest rates tend to be on the lower end (generally between 3.4 to 6.8%), and a portion of the interest payments may be tax-deductible, up to $2,500," Krawcheck tells us.
"Another form of "good debt" can be a mortgage to buy a home." A mortgage is good because, well, you have a roof over your head that can also be a form of investment over time. Again, the interest rates can be low (say 4%), and the interest payments can be tax-deductible.
BAD DEBT—Credit card debt, though, is the worse debt. Never ever let yourself get into credit card debt. Interest rates here can range from 12% to 22.6%—and there's no tax break on that interest. It gets worse. So, let's say you buy something for $1,000 on a credit card in the middle range of that interest rate, and a year later it will cost you $1,270 — or more — to pay it off.
The key takeaway here: If you need to rack up credit card debt to buy something, just don't buy it. "Seriously. Just don't buy it," advises Krawcheck.
Ready to invest that bonus? Here are five pieces of financial advice Krawcheck says every woman should know.
1. MAKE IT A HABIT
---
Investing should be a habit: at least 20% out of each paycheck every month.

2. DIVERSIFY
---
The market is always in flux and it's scary to think about the possibility that you could lose money. The best way to invest is to diversify your investment: it helps lower your overall portfolio risk. The old adage applies here: keeping a few irons in the fire is better than putting all your eggs in one basket.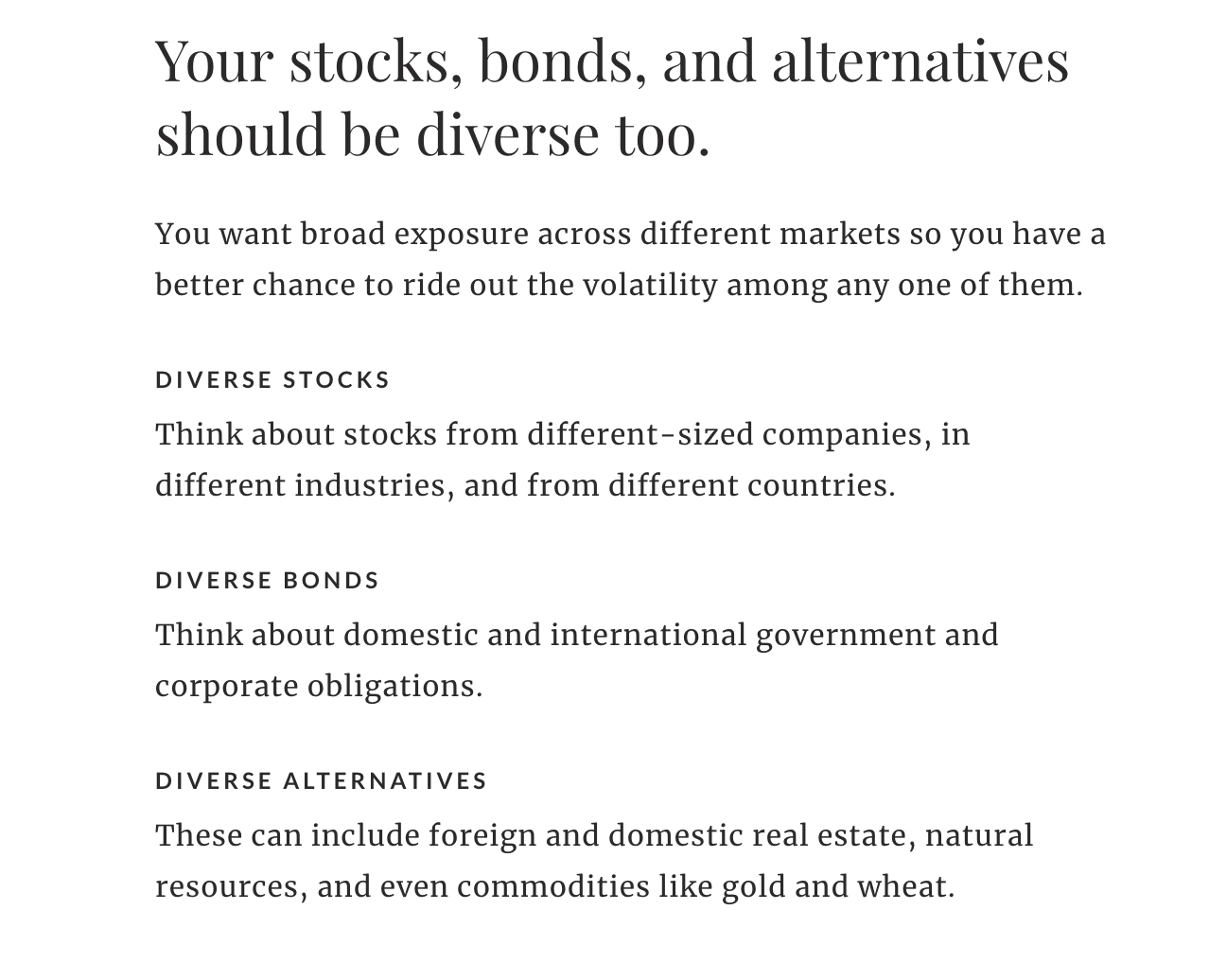 3. KEEP COSTS LOW
---
When you start investing with an investment advisor or a broker, they will most likely charge a fee for their service. Plus, there may be other hidden fees associated with the securities that you buy. Be smart with your money and look for advisors that don't charge crazy fees.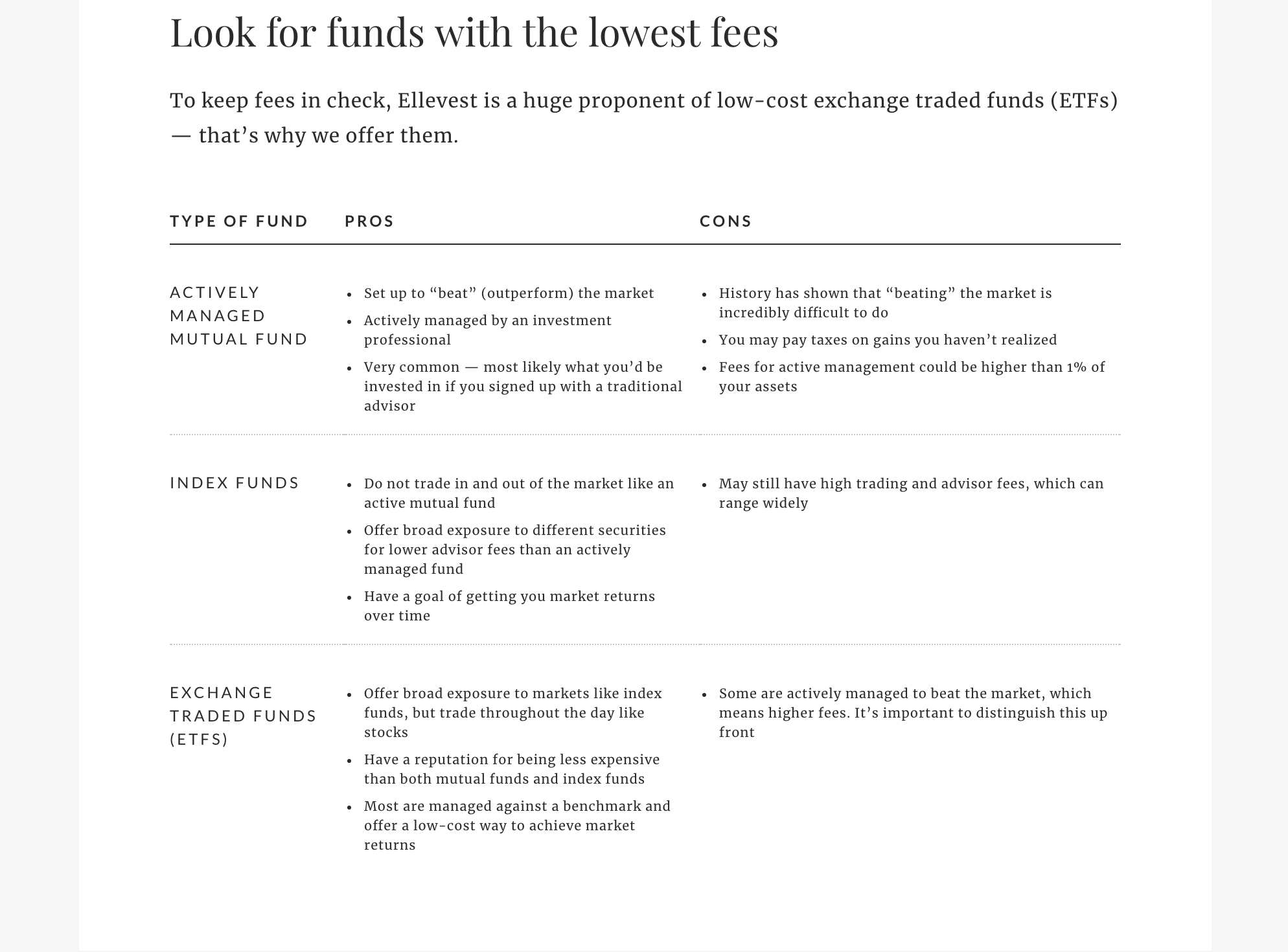 4. ASK: ARE YOU A FIDUCIARY?
---
There are many different kinds of "financial advisors" out there. Looking for the one that's best to manage your hard earned money is a big decision, so learn the difference between them so you can make the most informed choice. Fiduciaries are legally obligated to act in their clients' best interests, putting their clients' interests ahead of their own. At Ellevest, their number one goal (24/7/365) is making investing a better experience for you. It's that simple.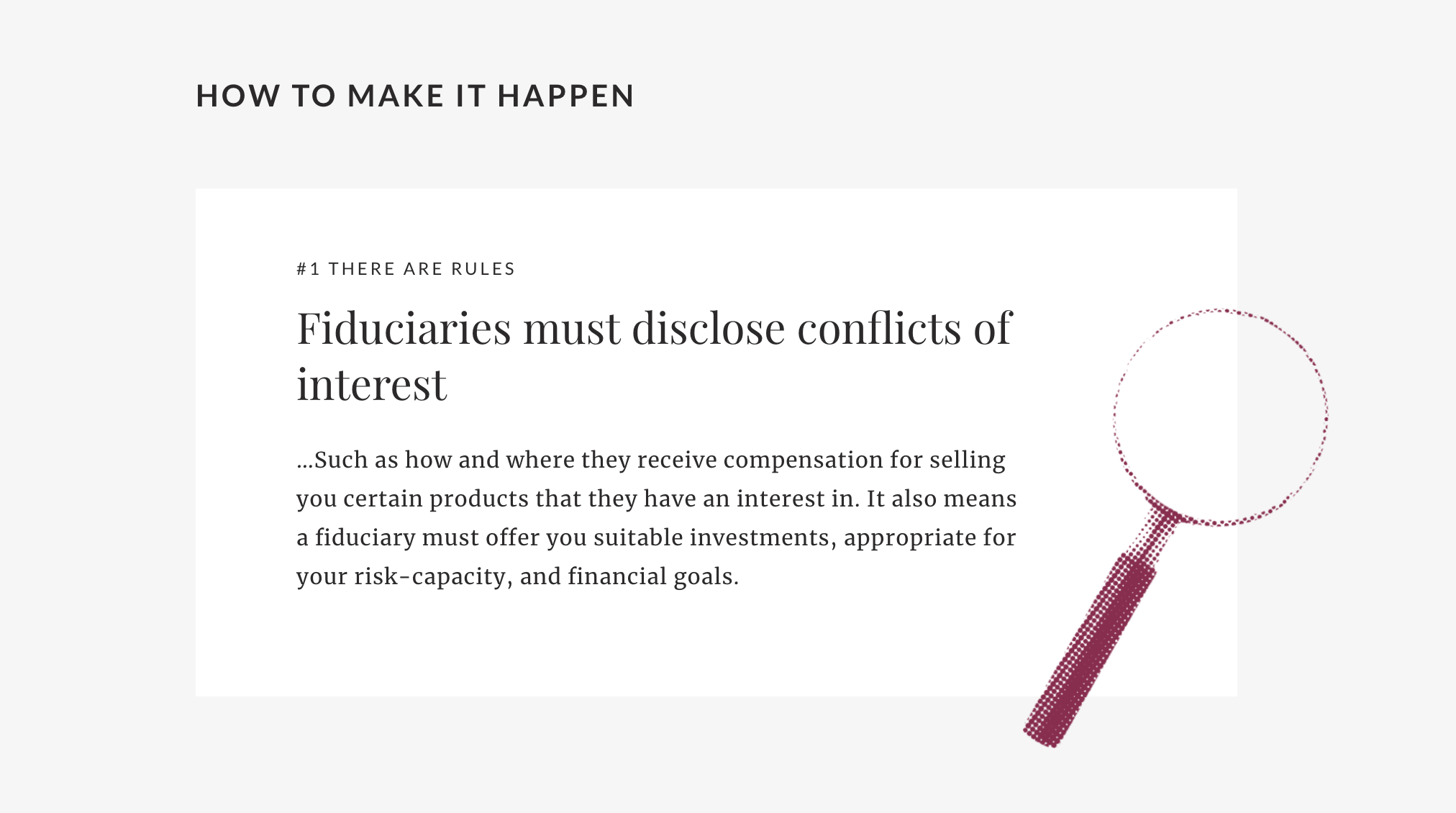 5. GET MORE CONSERVATIVE AS YOU GO
---
Life is a balancing act, there's no surprise there. Investing is no different. When you start investing in a retirement account at an early age, you may have a lot more in stock or stock-based securities. Yes, stocks are riskier, but they may also offer a higher return. When you're young, you may be able to afford to be more "aggressive" with your retirement portfolio because if something goes wrong with the markets, you may have time to make up for losses before you retire.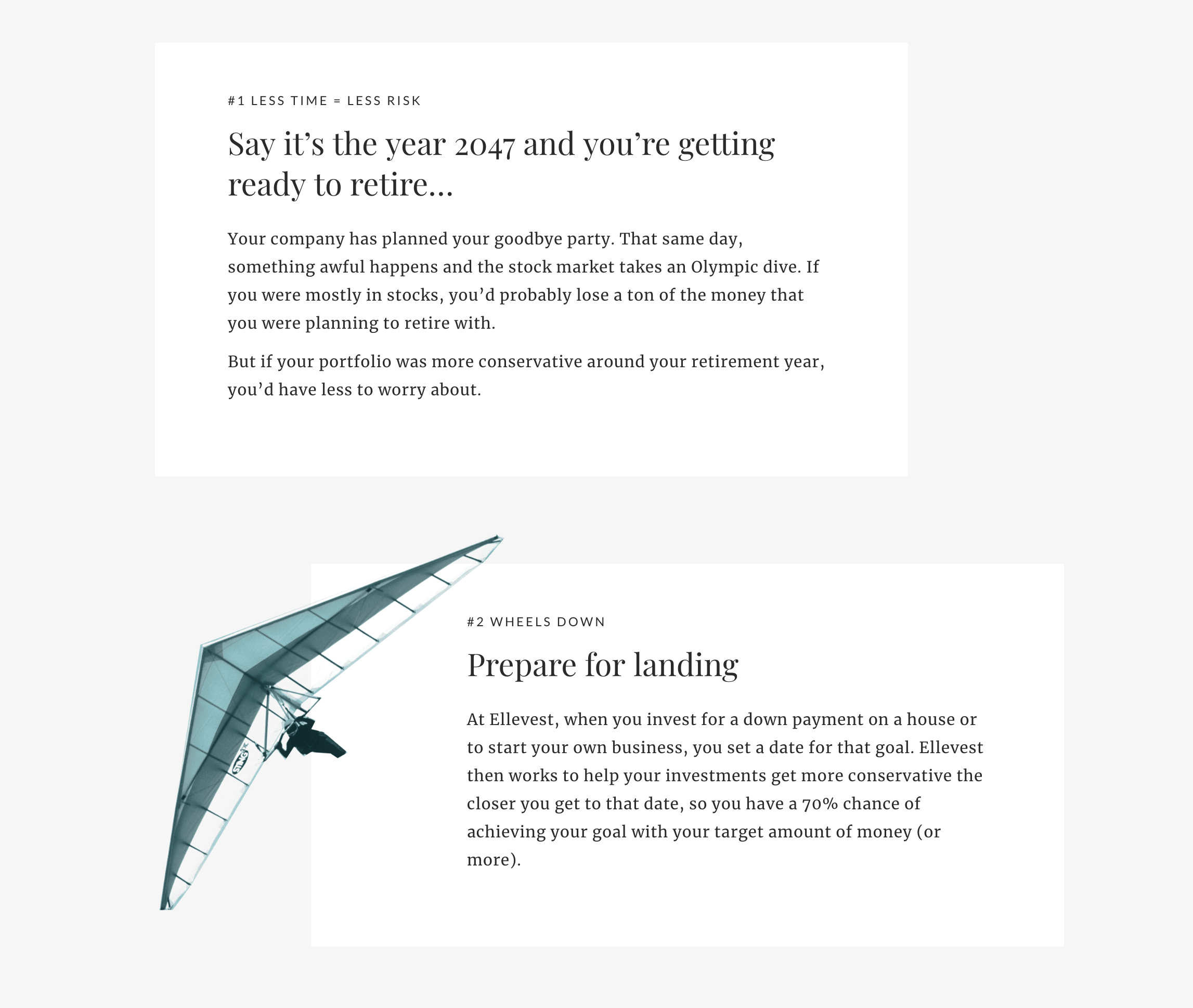 "Investing is one of the most important things you can do for yourself. It can build your wealth….not by a little, but by enough to make a real difference in your life," says Krawcheck.  If we're not investing, we're doing most of the hard work around money (you know, going to work every day, turning in that amazing design, landing the difficult-to-close client, beating our sales projections)….but we're only getting half the reward.  Plus, investing your holiday bonus creates "opportunity." Opportunity for more money; opportunity to advance yourself and to be part of advancing the fourth wave of feminism.