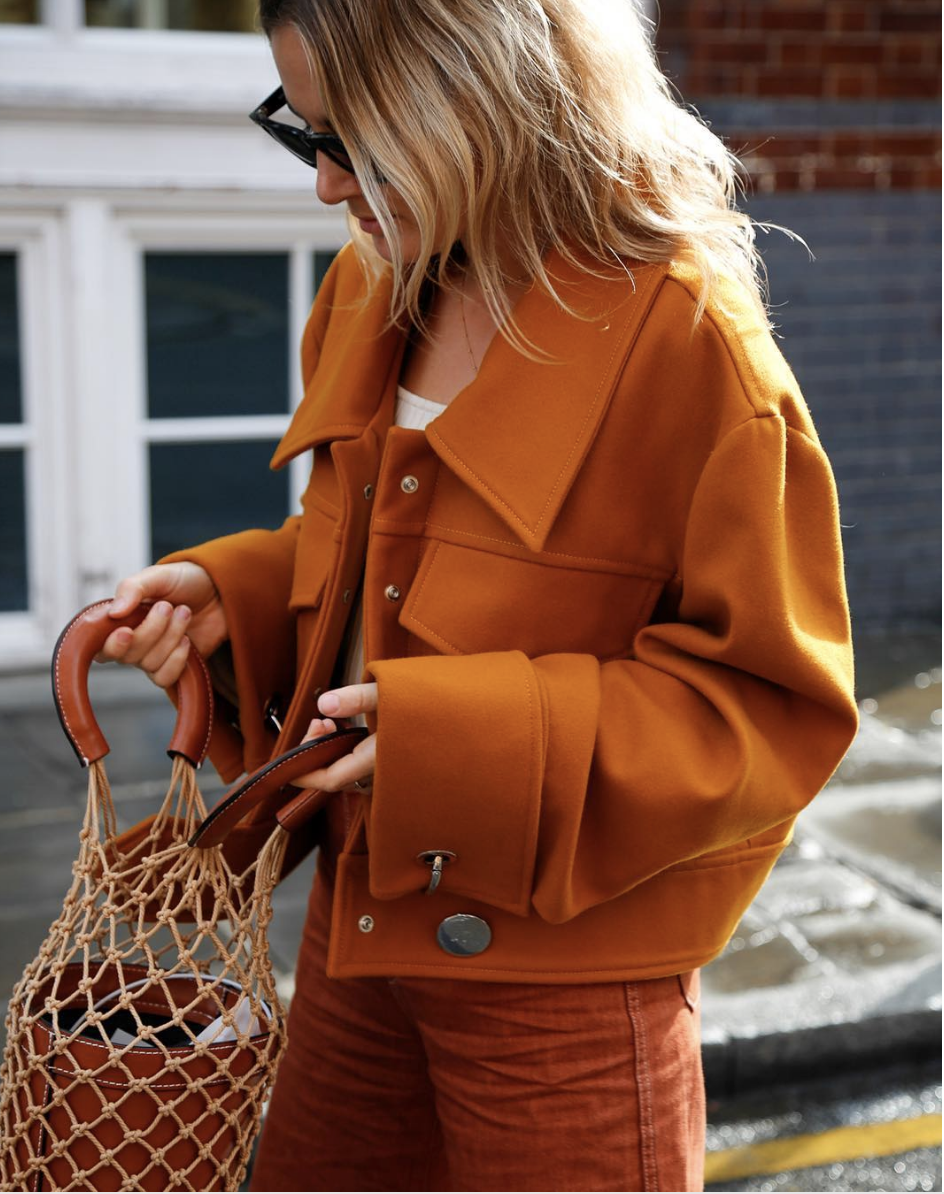 Remember the old adage, "Get rich slow, or get poor fast? " Well, it's especially true for women today.
The truth is you can either commit to budgeting, saving and allowing your money to grow slowly over time, or you can spend everything you earn and be at a disadvantage when you get older. Money management is incredibly important — and like it or not — how you choose to spend your paycheck strongly influences your financial future.  Don't get me wrong,  payday is amazing. But what you do with the money you make is really what's key.
So you're going to make it a habit to budget a little each month, but how much exactly?
"Follow The 50-30-20 Rule," Sallie Krawcheck CEO and C0-Founder of Ellevest tells Style Salute. "Fifty percent of your take-home pay should go to your needs: rent, food, insurance, and other basics. Thirty percent goes to fun. And 20 percent goes to your future." Follow this rule of thumb, Krawcheck says, and you'll be set for financial success over the course of your life.
Sallie Krawcheck designed Ellevest — an innovative investing platform — to give us women direction on how to intelligently invest in our futures.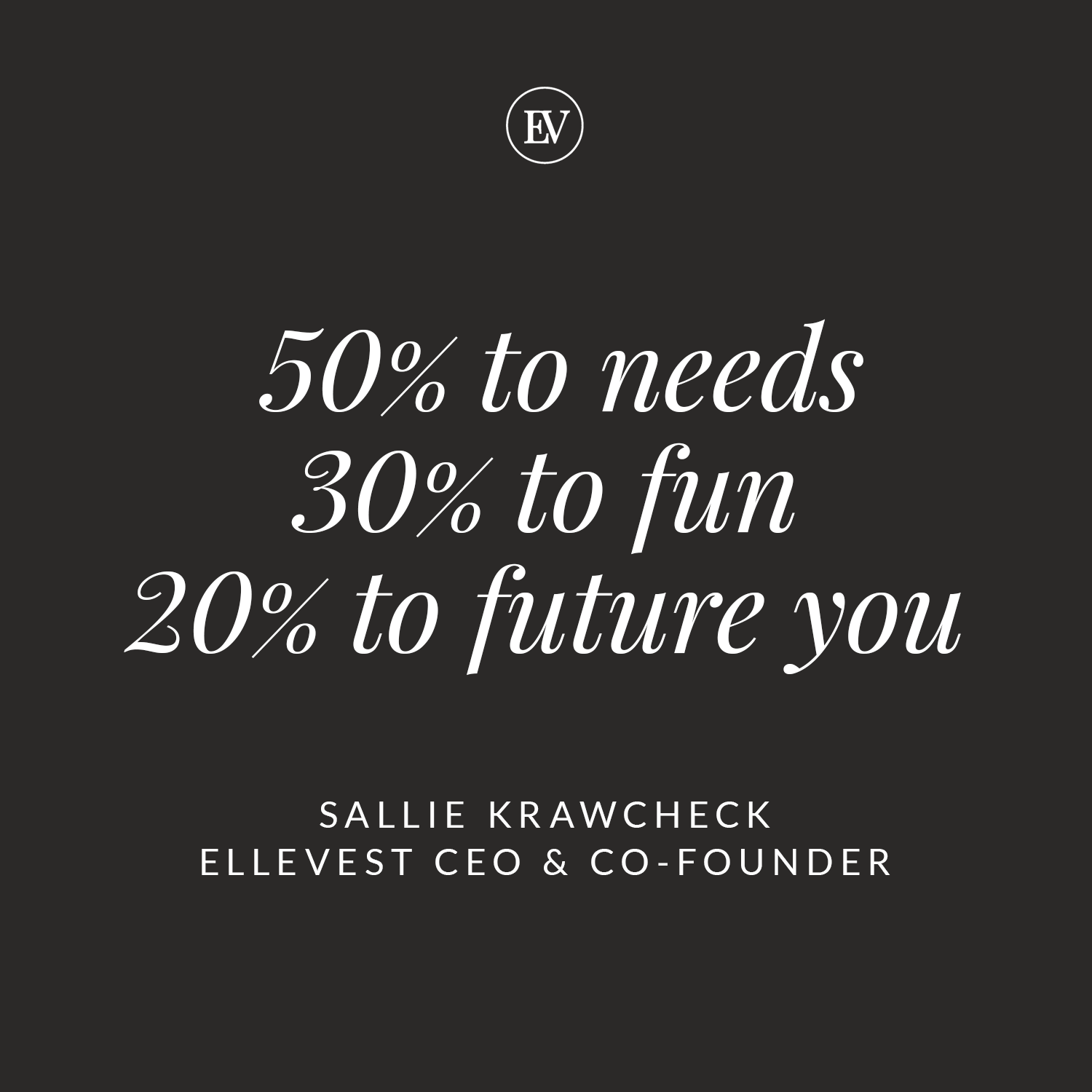 According to Krawcheck, investing should be a habit. "A bit out of each paycheck every month. Only instead of putting your money in the bank, you're putting it into an investment account where your money will be invested in the markets and gives you a chance of earning returns." Putting aside a small portion of your paycheck every month will soon become a routine — just like your bedtime ritual.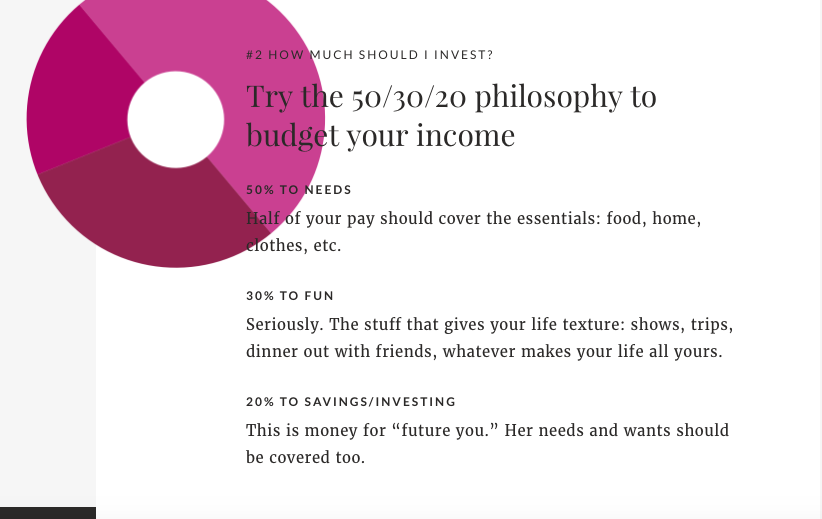 Have goals you want to budget for? Whether your goal is to buy a home, have kids, or take that big trip, Ellevest will give you a free customized portfolio to help you nail it.
Don't think you have enough to invest, think again. You can start small — Ellevest has no minimum balance, and your personalized financial plan is their gift to you whether you invest with them or not.
Want to conquer your future?
You'll need a financial plan for that. Here's a free one.