When it comes to your finances, do you take a "let's do it" approach or an "I'll wait and see how it goes"? If you identify with the latter, you're not alone. New data suggests that when it comes to managing money, women are not as independent as you'd expect. In fact, 91% of women in couples are not fully engaged in financial decision-making. 
But we want to change that statistic. Starting today.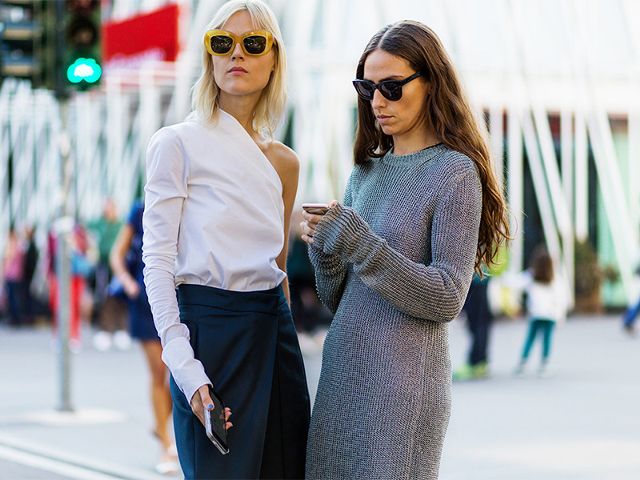 You know it's important to spend time on your finances.  Maybe you don't have the time. Or maybe you want expert guidance.  Or maybe you don't have the money to hire an expert. This is why successful women use financial technology – or fintech –to streamline their finances.
What is fintech? Where did it stem from? Stash Wealth founder Priya Malani explains, "Wall Street officially lost our trust. Even if they wanted to talk to us, we don't want to talk to them. This gave rise to financial technology, or fintech, as it's referred to by most. But, times have changed. In the last decade, however, hundreds of fintech companies have entered the space to help consumers streamline their financial lives." Today, these tools make managing and investing your money infinitely easier (and cheaper).
The best fintech tools are smart and super easy to use, so you'll save tons of time on your finances. Plus, these digital services are free or low cost, available 24/7, and can easily be accessed on your phone or laptop. Need to track your expenses? Ready to invest and need a little hand-holding? I got you.
After some trial and error, I've discovered a few of the best fintech tools to try. These fintech products will save you time and money, so you can focus on what matters most to you.
Keep reading for how successful women use technology to streamline their financial management.
Fintech Tools So You Can Cruise
---
Investments
Automated investment adviser services, dubbed "robo advisors," are platforms that invest money into stocks and bonds based on your answers to a few questions — like your age, your salary, and how risk-averse you are. The funds you invest are automatically maintained through the software, constantly readjusting and reinvesting depending on how aggressive you want them to be.
Sallie Krawcheck, the CEO of Ellevest, an investment group focused on serving female investors just wanted to make investing more accessible to all women. Krawcheck saw an opportunity and harnessed technology to build a new kind of investment product, and it's working.
Ellevest is great for beginners and seasoned investors alike. It takes away the guesswork by creating a diverse investment portfolio specifically for your goals. A few clicks are all you need to set up an online account. Their website is easy to navigate, transparent, low in fees and the dashboard is filled with beautiful graphs so you can track your savings at a glance. Investing used to be expensive and complicated; robo advisers like Ellevest are making investing more accessible for everyone.
For a limited time, Ellevest is offering $100 to jumpstart your vacation/retirement/handbag fund.

Before Robinhood, the "affordable" brokerages were charging $7/trade. This meant people had to pay to invest and only the wealthy could afford it. Robinhood is a trading platform that offers zero commission trading. The app lets you trade for free on most stocks, options, and cryptocurrencies (Bitcoin and Ethereum). Their mobile-only platform is quick, intuitive, and straightforward.
Expense Tracking
Do you ever wonder where all your money is going? Mint aggregates all your accounts into one place and categorizes your spending. By linking your credit cards to Mint, you'll know exactly how much you've spent on groceries and movies this month without digging through your statements and pulling out your calculator. The platform is available on desktop and mobile, so your budget, spending, and savings are always at your fingertips.
If you're using a cash envelop system, you should still use fintech products to track your spending. I've tried out a lot of expense tracking apps and MoBills is a top contender. The user interface is so easy to use! The app will even suggest location labels with its Smart Location feature, so it'll automatically know you spent $195 on kitchenware at Le Creuset.
Payments
Group trips are fun but there's always chaos when trying to figure out who owes what to whom. After my friend Jamie was introduced to Splitwise during her birthday trip, she appropriately proclaimed, "My life has changed for the better." The mobile app allows everyone to record payments and select who was involved in each activity. Then it does math magic and emails the amounts to everyone at the end of the trip. Just Venmo and you're done. Do I even need to talk about Venmo? Instant money transfers and emojis. Get on it.
Addressing Security Concerns
---
You might be wary of giving out your financial information to a digital source. I get nervous too, especially after the Facebook and Equifax debacles.  No one can guarantee your data will be safe, but here are 4 ways to increase your data security when using fintech tools.
1. Opt into 2 factor authentication. This means that along with your login password, another form of authentication is required. For some mobile apps, this might include a 4 digit PIN or biometrics such as a fingerprint or facial recognition. For example, the Venmo android app has an option select both "Enable PIN code" and "Use fingerprint" for sign in.
2. Read the privacy terms. If legal mumble jumble is too much, at least do a search (command +F) for the words "third party." Ellevest, for example, explicitly states, "We never sell or share your personal information with a third party that would market or advertise their products to you."
3. If you're going to be sharing your bank information, look for bank-level security and data encryption. Acceptable bank standards is 128 bit SSL encryption. Mint uses 256 bits and controls its own data centers with the utmost security measures.
4. If you're using a robo advisor, check to see if they are regulated by the SEC and Financial Industry Regulatory Authority. This ensures the company follows strict securities compliances. Robinhood, for example, states they are "a SEC-registered broker-dealer and a member of the Financial Industry Regulatory Authority (FINRA) and the Securities Investor Protection Corporation (SIPC)."
If fintech is still not your thing, consider Stash Wealth. They utilize smart technology but still employ a team of real human advisors. With their affordable human-first approach to financial planning, you don't have to worry about robots taking over the world.
Though, sometimes, those robots make life a lot easier.