We wished upon a lash, and our beauty dreams came true. Huda Beauty has filled our cosmetic bag with every false eyelash possible to make us feel beautiful.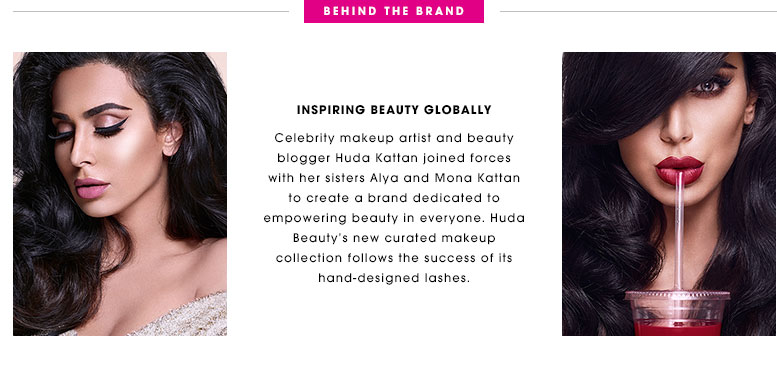 If you've been active on Instagram, Facebook, or YouTube lately, you know exactly why we're obsessing over this emerging beauty brand. If not, drop everything and go stalk Huda Kattan on Instagram, the beauty blogger behind the brand…did your world just change? We weren't exaggerating. With over 22.2 million Instagram followers, Kattan is a top beauty blogger turned entrepreneur. She's taken advantage of the social media wave, as she originally hooked us through her helpful and engaging YouTube makeup tutorials. She's a true inspiration to beauty bloggers, convincing them to follow their passion because it's totally possible to kickstart your career with all the media platforms available today. Huda shared her advice with the New York Times for aspiring beauty bloggers to: "be true to yourself, share other users' posts to gain a community and be "super involved" with both followers and customers by engaging in conversations."With the beauty and brains of her beauty-obsessed sisters, Mona and Alya, the three officially started the empire Huda Beauty in 2013 featuring the most re-pinned lashes on the platform – ever, and now are taking the beauty market by storm. Mona is the game planner, Alya the social media expert, and Huda is the visionary – talk about a powerful sister trio. Just last year they introduced a whole makeup line with hip hues in eyeshadow palettes, highlighter palettes, lip contour, lip sets, lip strobe, and liquid matte. Using makeup to uplift their day-to-day lives, the sisters developed this brand with the intention that it's for all beauty lovers so that everyone's complexion will sparkle. No other brand beats Huda Beauty's awesome motto – that we are all beautiful and makeup is simply a way to enhance our beauty.
With her own eyelash experiences, Huda knows that if we're going to go through the trouble of putting on false lashes, they must be durable, natural looking, exceptional length, full, and give us the boost to bat our eyes with confidence. Wanting to make you, me, and herself lash queens, she took all these elements into consideration in Huda Beauty's lash line. Whether you're going for a night out on the town or just want to feel glamorous Huda Beauty has a wide selection of eyelashes from the  Classic Collection, Eazy Lash, and Faux Mink Collection. These lashes are the most re-pinned lashes on the platform – ever because they suit any eye shape, emphasize any makeup look, are vegan free, made of synthetic mellow fibers, and require no mascara touch up. Even better, the price is totally worth it because these aren't those flimsy lashes that you toss after one use. They can be worn up to twenty times when you follow Huda's tips on taking care of your lashes. Dramatic eyes here we come!
Keep scrolling to shop our favorite Huda Beauty lashes and products.