As any woman who works in an office knows, putting together a new outfit for every day of the week is quite the challenge. What professional woman has the time to sort through her wardrobe day after day to put together an appropriate (yet comfortable and stylish) work outfit? You could do what former art director Matilda Kahl did and wear the same outfit to work every single day, but that's not the likely choice for all of us. That's exactly why we love the dress with tights and boots outfit combination.
Wearing a dress with tights and boots is a simple, classic, and comfortable outfit combination that's ideal for anyone who likes to stay warm in the office, while also looking stylish and appropriate. When worn with sleek tights and timeless over-the-knee boots or heeled ankle boots, even a flirty shift dress can become office-appropriate.
So what are a few easy ways to pull off this classic combination?
Keep scrolling for a few of our favorite ways to pull off this outfit combination, then shop dresses to help you get the look.
A float summer dress feels office-appropriate when styled with opaque tights and over-the-knee boots.
Try over-the-knee boots with an oversized sweater dress that lets just a peek of your sheer tights show.
A thin silk slip with opaque tights and combat boots is a comfortable yet cool pick.
A pleated all white dress with when styled with a simple coat and sturdy boots is a chic look.
Cowboy boots are always a stylish yet appropriate pick.
For a polished yet comfortable office look, we love a pleated midi with an oversized sweater and suede boots. To see more trendy and fashionable dresses like this, visit MD Boutiques Online. Their boutique offers a selection of freshly designed clothes made to fit.
Studded ankle boots and a wrap dress make for a fun combination.
Your favorite holiday party dress can be the perfect choice when paired with over-the-knee boots.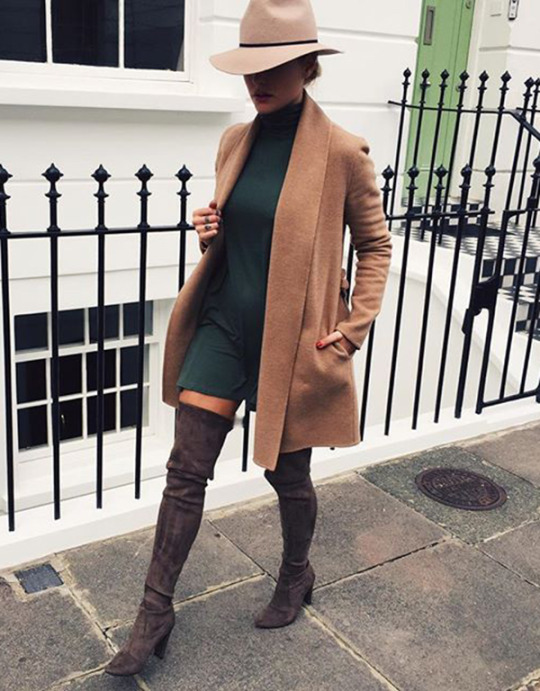 Dare to wear thigh-boots suede boots with a knit dress and coat.
Mid-calf brown boots with a floaty midi and oversized sweater is the perfect outfit combination for transitional weather.
Want to feel really snug? These flattering bodysuits for everybody. Looking for boots? We've got the hottest books (plus how to wear them) right here.