You've just come into some yummy money. It could be a tax refund,  year-end  bonus,  or even an inheritance. Now, what to do with this sum of cash? You've worked hard and certainly earned it,  but now the question is, what are you going to do with that extra cha-ching? Go on a shopping spree? Take that big vacation?
If you want to know what successful women did with their money when they were in your shoes (pun intended), we can almost guarantee you that they chose to invest their holiday bonus.
Investing is hands down one of the smartest things to do with your money, — and despite what Bitcoin enthusiasts would have you believe about investing  —  it isn't as complicated as it seems. In fact, according to our friends at Ellevest, an automated investment platform for women, you don't have to pick stocks or "beat the market" to start investing. You don't need to be an expert or have a lot of money.
There are really only five essential things to know about investing. Sallie Krawcheck and Ellevest take us through each and give for how to start investing.
1. Make Investing a Habit
Investing should be a habit. This means you invest a bit out of each paycheck every month.
Don't think you have enough money to invest? Think again.  Ellevest has no minimum deposit, so you can start with $1, $5, or $10 and work your way from there. The point is to start and to invest regularly, whether it's with every paycheck, every week, month, or quarter.
Not sure how much to invest? Learn the smart way to break down your monthly income so you don't keep waiting to invest.
2. Diversify Your Portfolio
The market is always in flux and it's scary to think about the possibility that you could lose money. This is why the best way to invest is to diversify; it helps lower your overall portfolio risk. The old adage applies here: keeping a few irons in the fire is better than putting all your eggs in one basket.
3. Keep Your Costs Low
When you start investing with an investment advisor or a broker, they will most likely charge a fee for their service. Plus, there may be other hidden fees associated with the securities that you buy. Be smart with your money and look for advisors that don't charge crazy fees.
4. Do Your Research and Find a Financial Advisor
There are many different kinds of "financial advisors" out there. Looking for the one that's best to manage your hard earned money is a big decision, so learn the difference between them so you can make the most informed choice. Fiduciaries are legally obligated to act in their clients' best interests, putting their clients' interests ahead of their own.
At Ellevest, their number one goal (24/7/365) is making investing a better experience for you. It's that simple.
5. Get More Conservative As You Go
Life is a balancing act, there's no surprise there. Investing is no different. When you start investing in a retirement account at an early age, you may have a lot more in stock or stock-based securities. Yes, stocks are riskier, but they may also offer a higher return. When you're young, you may be able to afford to be more "aggressive" with your retirement portfolio because if something goes wrong with the markets, you may have time to make up for losses before you retire.
"Investing is one of the most important things you can do for yourself. It can build your wealth….not by a little, but by enough to make a real difference in your life," says Krawcheck.  If we're not investing, we're doing most of the hard work around money (you know, going to work every day, turning in that amazing design, landing the difficult-to-close client, beating our sales projections)….but we're only getting half the reward.  Plus, investing your holiday bonus creates "opportunity." Opportunity for more money; opportunity to advance yourself and to be part of advancing the fourth wave of feminism.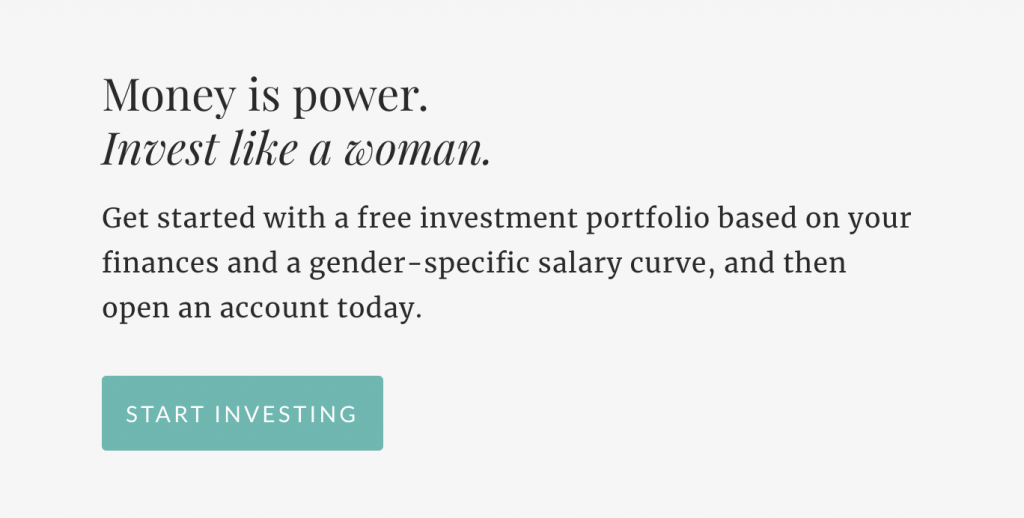 Here are more money topics for you…
Answered: 401(k) vs. IRA? Use Both If You Can
How Much You Should Be Spending On Clothing and Beauty Every Month
I'm Self-Employed: What Are My Retirement Options? 
Disclosures: We're excited to be working with the team at Ellevest to start this conversation about women and money. We may receive compensation if you become an Ellevest client.