It's the most wonderful time of the year… and for many of us, also the most expensive.  Sure, we all want to go to every party in a great new outfit and buy our family and friends gifts that will make them smile from ear to ear.  But to avoid the stack of January credit card statements that make us wince, we need to create a holiday budget — and stick to it.
We're not here to lecture you about how much to spend — or not spend.  However, it is an important time to remember the 50/30/20 rule. Check out this article if you're unfamiliar with it.
So how does the 50/30/20 rule work? Here's the short version:
50% of your after-tax salary should go to personal needs (the bills you have to pay every month), 30% to personal wants (some fun money, including gifts), and 20% to investing and savings (to build a better tomorrow for Future You).
But what if you spend 40% of your income in December on "personal wants" because of gifts? It's OK — not every month has to be exactly the same, so long as you find a way to normalize your spending in the long term. Plus, if you allocate just 20% to wants in January, or 25% in both January and February, you'll be back on track in no time. It's all about balance.
In a planning mood? See how an investment plan could help you manage your finances. Ellevest is one way to do it. You can get a personalized portfolio in under 10 min. And it's made by women, for women.
An Example of the 50/30/20 Plan:
Let's say your total take-home pay each month is $4,000. Using the 50/30/20 rule, you can spend no more than $2,000 on your personal needs per month. You probably can't afford rent or a mortgage payment that's $1,500-a-month, at least not unless your utilities, credit card payments, insurance premiums, car payments and other necessities of life don't exceed $500 a month.
Your goal here is to fit all these expenses into 50 percent of your take-home after-tax income.
You can spend $1,200 a month on your having fun based on that $4,000 you're bringing home each month. And don't worry if you're coming up short here and you need more this month for holiday spending, you can consider doing without a few things and shifting some of this money to your "personal needs." Remember, you still need 20 percent left over so you can save and invest according to the 50/30/20 plan.
What's the secret here?
The secret? It's simple, really: get your money in balance. And, if you can't hit that 20 percent investing goal right away, that's okay. Invest even 1-3 percent of your take-home pay, but get yourself in that habit of investing.
PS: Our friends at Ellevest know a lot about how to handle money. Their digital service uses an algorithm specifically designed for women's incomes and life cycles to figure out the best saving and investing strategy for you. Sign up now.*
Next steps…
So, now that you have $800 left, that last 20 percent. You know what to do with it. Save for an emergency, start investing, and plan for your future. Here's one way to do it. You can get a personalized portfolio in under 10 min. And it's made by women, for women. Your move. Get started here.*
Ready to find out how much you're spending (and saving)? Save the budget graphic below as a reminder.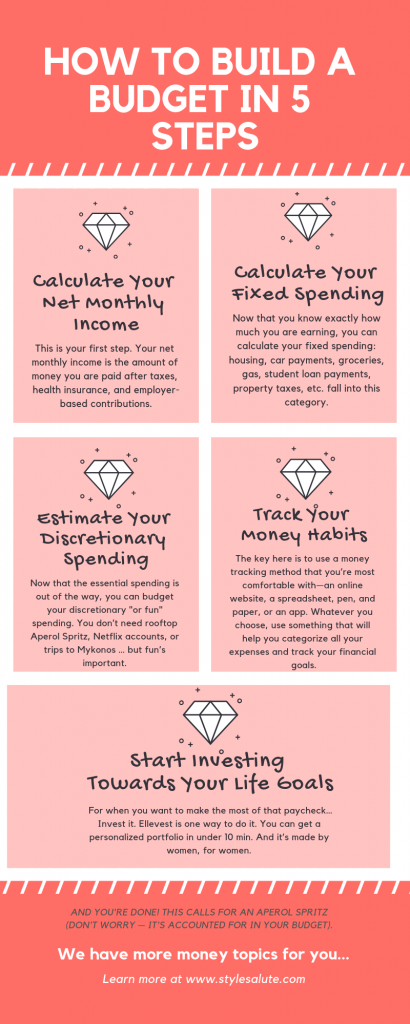 Next up, 100 blazers to wear now and keep forever.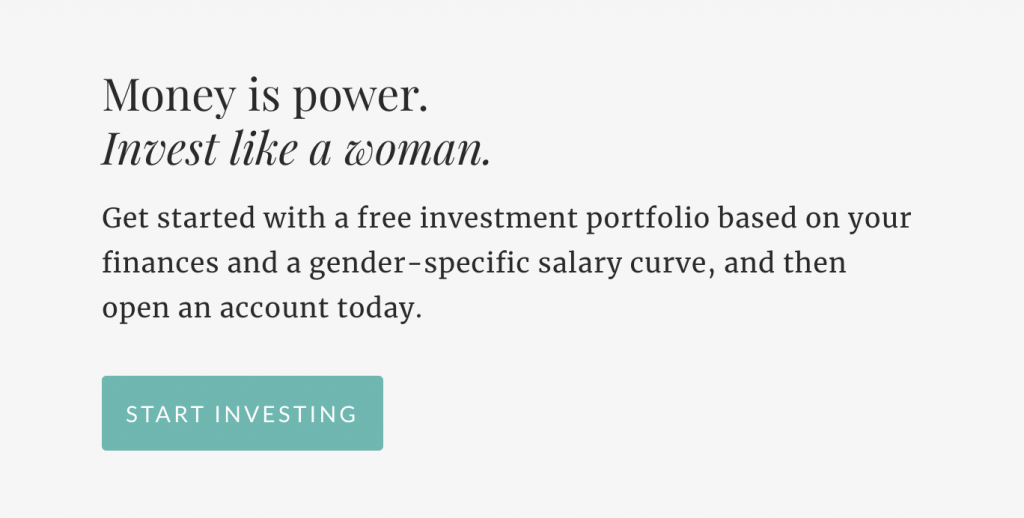 Here are more personal finance topics for you…
The One Money-Habit All Wildly Successful Women Share
Sound More Confident at Work—Use These 5 Phrases
3 Reasons Why You Need a Roth IRA- Even If You Have a 401(k)
Questions? We're here to help. Leave us a comment and we'll get back to you!