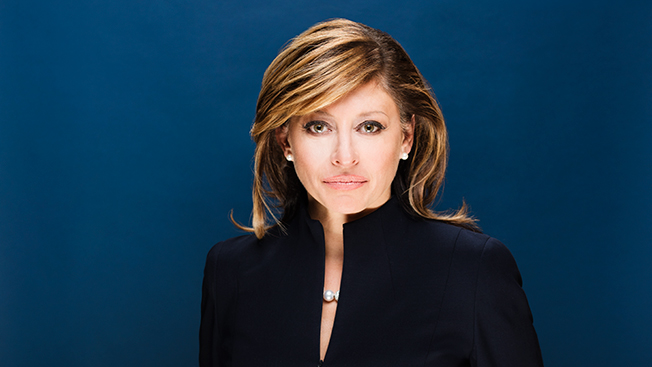 Do you sometimes find that you have so much on your plate, you just can't get it all done? You start each day with an agenda to do so much, but instead of checking off that to do list, you find yourself distracted, focusing on low-priority work and simply, procrastinating.
We all have professional goals, whether they be long-term projects or quick wins, so how can you manage your time and get more done each day? We tapped Maria Bartiromo, the anchor of  Fox Business Network Mornings with Maria as well as Fox News Channel's Sunday Morning Futures to find out her best email tips for getting more done in less time throughout the workday, no matter how long your to-do list might be.
As an anchor across two different networks, on three different shows, doing 17 hours of television a week – she knows that it's important to manage your time well. "When you have a lot on your plate, it is easy to feel overwhelmed but there are certain things I do to ensure I am not wasting any time. One of my favorite quotes is 'If you want something done, give it to a busy woman,' and I try to embody that across my personal and professional life," Bartiromo says.
Ready to overhaul your workday? Here are Bartiromo's favorite hacks that will help boost your productivity.
1. Get a Head Start
---
I love my job and I always tell emerging journalists you have to love what you do in order to be successful. But, I also tell them to work hard, and that there are no shortcuts to success. As an anchor across two different networks, on three different shows, doing 17 hours of television a week – this can get grueling.
Get a head start on your day by preparing the night before. Whatever you can do the night before to get a jump-start, do it. I set up my outfit that I will wear the next day the night before and read the next day's headlines as soon as I can get my hands on them.
That means going to all my favorite websites to find out what they will lead with tomorrow. This saves me a lot of time when I'm up against my deadline the next day. Figure out what is on the day's agenda and prioritize. It will allow you to get more things done.
2. Exercise is Key
---
Exercise is key to a productive day. If you find yourself losing focus, get up and move. A short walk outside or in the office can lift your mood, reduce hunger and help you to refocus.
Yoga and meditation have been great additions to my schedule. This centers you and allows you to have clarity on what's important when you need to. There is so much noise we deal with all day, every day, on our devices and in the media. Try to shut down completely a few times a day to refresh. Check out this new book I am reading Strength in Stillness: The Power of Transcendental Meditation by Bob Roth.
3. Use Your Commute to Your Advantage
---
Catch up on emails/reading during your commute but prioritize! Although it's tempting to scroll through Twitter, Instagram or Snapchat, getting some work done on your way in/out of the office can ease that pressure of squeezing it all in in a certain time frame. On my way to and from work, I make sure that I am catching up on any missed e-mails and keeping up with the latest headlines. But I make sure to prioritize.
I will only look at things that are important to that day or near term. If I do not need to read a long e-mail right then, I won't; and I'll do it when it's more pressing because it's too much noise. Clarity is important in this day and age of constant news flow.
4. Find Time to Rest
---
No one can be highly productive 24/7 and sleep is important. Giving your brain a rest is crucial, and sometimes all you need is that 20-minute power nap to come back refreshed and ready to get more done. Since I need to wake up by 3:30 a.m. and often have events at night after work, naps or breaks are important. I always feel refreshed and new again after a nap.
5. Stay Active & Drink Water
---
Even if it's just a 15-minute walk, it is important to stay active to keep you energized. I always make sure I carve out 30 minutes for a workout, whether it's hitting the gym, yoga, or going for a bike ride. Also, instead of reaching for that coffee in the morning, I try to stick to water.
Coffee dehydrates you and despite the caffeine, it can make you feel sluggish. I have switched from years of morning coffee to peppermint herbal tea. It's soothing and forces me to drink more water. Stay away from most carbs. They bring you down and dull your mind.
Another habit that makes you feel irresistible to yourself? Organizing your $$$. Not sure where to start?
Don't get all flustered. Our friends at Ellevest know a lot about how to handle that cash money. Their digital service uses an algorithm specifically designed for women's incomes and life cycles to figure out the best investing strategy for you. Plus Style Salute readers get a little something extra to start you off. Learn more here.