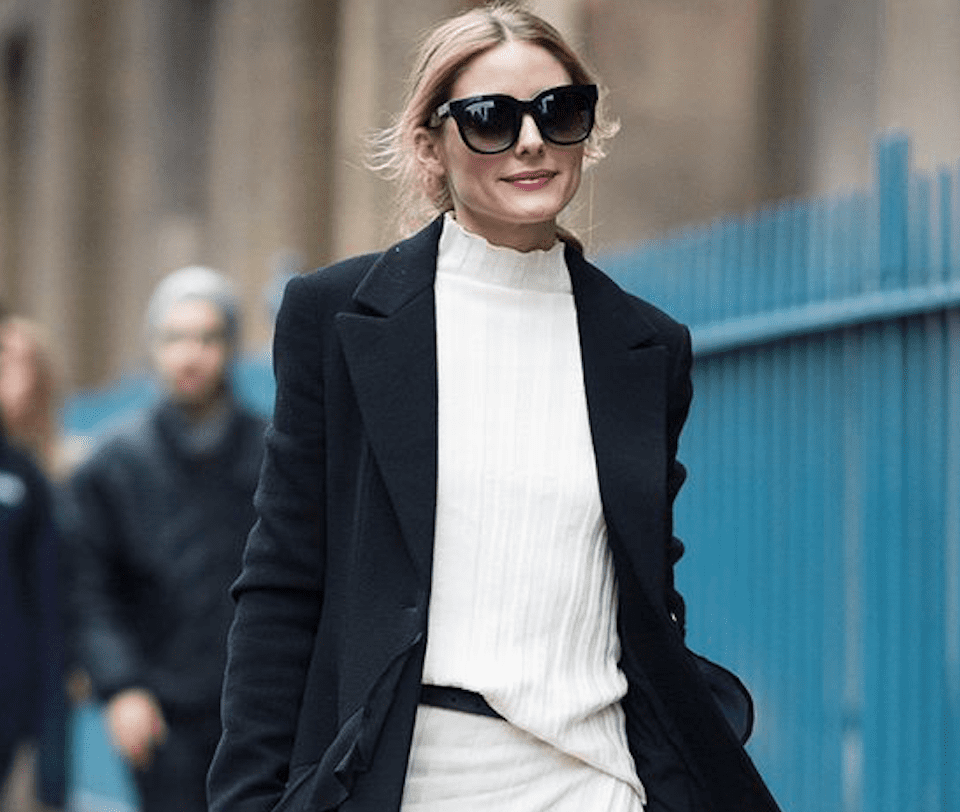 Winter is officially here, and you don't want to wear anything but your favorite tights and boots.  Sound familiar? To help you stay cozy while also navigating an office's dress code, we rounded up 10 office-appropriate and cute winter work outfits with tights and boots.
In order to avoid that unfortunate situation this year, we're challenging you to work with the pieces you already own to create a budget-friendly party-ready look.
Click through for our 12 standout ideas. 
Take a cue from @chrisellelim and don't be afraid to wear a sheer summery dress with opaque tights (we're loving the DKNY super opaque control top tights ($18) and boots (especially if those boots are Stuart Weitzman's now classic over-the-knee 50/50 boots) ($785.00 $470.98).
@kaitlynn shows that mixing and matching punk black fishnets ($22) with a pink vintage dress ($450) is totally a thing, especially when in Marc Jacobs. Oh, and those white boots (or these statement black boots ($475) ) are a must to compliment the entire look.
Take note of how @rachmartino took the opportunity to bring out fall hues in her floral patterns ( imagine wearing this Spirit of Grace Tracey V-Neck Tie Sleeve Floral Dress ($36.97)) and mustard cardigan, which adds some color to the standard black tights ($15). We love how she opted for open strappy boots ($29.03) – who said boots have to be closed toe?
Make a fierce appearance like @simplyaudreekate in a lace black dress ($130), black tights ($70), and studded black boots (these are a huge score for just $137.37). We say the leopard coat ($266.25) is a must to make this the cat's meow of all dress + tights + boots combos.
Fall means goodbye sunrays, hello showers. But it won't rain on your parade if your dressed like @jeanwang in Hunter boots (they come in so many patterns and are durable for any weather catastrophe for only $150), sweater dress ($75), and opaque black tights ($85).
@lifestyledatlanta those high knee boots ($34.97) are something, and we all need them in our dress + tights + boots wardrobe. She said it, "chenille is a major trend this fall", and we can see why with this long sweater dress ($44.95) paired with bold tights ($9.99).
@gabbymbeki will make you classy and sophisticated in the office with a simple black dress ($98), black tights ($30), and chunky black ankle booties ($198).
Embrace sweater weather with @glamourlovexoxo sweater dress (get ready to match the leaves in this burgundy sweater dress ($30)), fishnet tights (these DKNY micro fishnets ($22) draw just the right amount of attention), and edgy black boots ($246).
Learn to look casual and cute like @courteink in her plaid oversized blouse dress ($150), black tights (Talbots ($24.50) fleece lined tights are sure to keep you extra cozy), and OTK boots (we are just as obsessed with the Elina OTK boots ($137.98) ).
@oneteachersstyle says you can never go wrong with sticking to the basic casual dress ($199), colored tights ($9.97) (switching up the color of your tights always makes your fun), and suede booties ($180).
Shop boots and dresses that are begging to be worn.