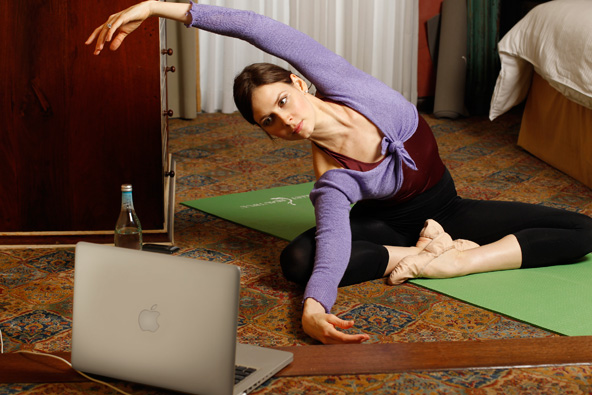 At Style Salute, we are obsessed with the power of habit.  We know that adopting a new practice and doing it consistently is really hard, but it really pays off. That's why we've made it our mission to make healthy, positive habits easier so that women can be at their best every single day.
Each week, we will share a new Power of Habit story to help you set rules and establish good habits.  This week, to help you reach your health and fitness goals, we tapped Mary Helen Bowers from Ballet Beautiful for her fitness know-how and advice for how to pursue a healthy and empowered life.
Travel a lot for work or headed somewhere for the summer? Whether you're traveling for business or pleasure, being in transit has a tendency to throw off the fitness routines of even the most dedicated gym-goers. Of course, taking a few days off is OK—but let those few days pass, and it can become a habit.
Enter professional ballerina Mary Helen Bowers, founder of Ballet Beautiful. A former New York City Ballet dancer, Mary Helen Bowers inspired Natalie Portman's star turn as a dancer, and now she can inspire your hotel or in-home workout everyday.
How? Through an online streaming workout subscription from Ballet Beautiful,  you can get a customized workout, which develops the strength, and elongated muscles of a dancer through targeted low-impact classes.
"If you're feeling jet lagged, or too tired to get dressed and hit the hotel gym, you can basically open your laptop and do these moves via a customized streaming workout tailored to your fitness goals and availability," she says—making this the best travel workout. Single videos start at $8.99  and for only $39.99 a month,  you can have unlimited access to the full streaming library.
This means that whatever your fitness goal,  Bowers, has thoughtfully designed an organic method for you — one where you can  choose workouts based on body areas, fitness goals and stretches.
Peek inside the world of Ballet Beautiful and find out why Victoria's Secret Angels Lily Aldridge and Erin Heatherton, and thousands of others around the world, make Ballet Beautiful their workout of choice. Video credit: Jason McDonald for Victoria's Secret.
Full disclosure, I gave the streaming videos a shot, and I absolutely loved the routines and the results (you will live in your bikini this summer).
There's no need to hall any extra gear in your suitcase because all you need is your powerful body and positive attitude; Ballet Beautiful and 24-7 global access will take care of the rest.
Complete your workout session in a Ballet Beautiful ballet look. Scroll down to shop.