Travel during the holiday weekend is often cited as the most stressful time of the year. Between the longer than normal TSA lines to beating jet lag, getting to your destination can be seriously stressful—but it doesn't have to be.
Have you ever noticed how frequent fliers never seem to sweat the small stuff? This is because after logging many hours in the air these fliers know that a well-curated bag can make all the difference.
While it might seem trivial what to pack, it's not, and it can make all the difference when it comes to helping you fall asleep mid-air,  protect your health,  and help you actually make your flight an enjoyable part of the trip.
Curious to know what items frequent fliers swear by,  we turned to seasoned travelers and mined Amazon to find the genus products that belong in your travel bag. From sleep balm that will put you right to sleep to smart luggage that lets you charge all your electronic items, these items help jet-setters arrive at their destinations fresh and ready for quality time.
Keep reading for the must-have items to pack for a stress-free holiday trip.
MONEY BELT
Thanks to the popularity of fanny packs these days, this safe travel item is one of the hottest accessories on Amazon. A money belts lightweight design helps to keep a low profile from prying eyes.  It can be positioned between layers of clothing, hidden under clothes or inside your pants. Keep your valuables away from the sight and reach of thieves. Here are our favorites.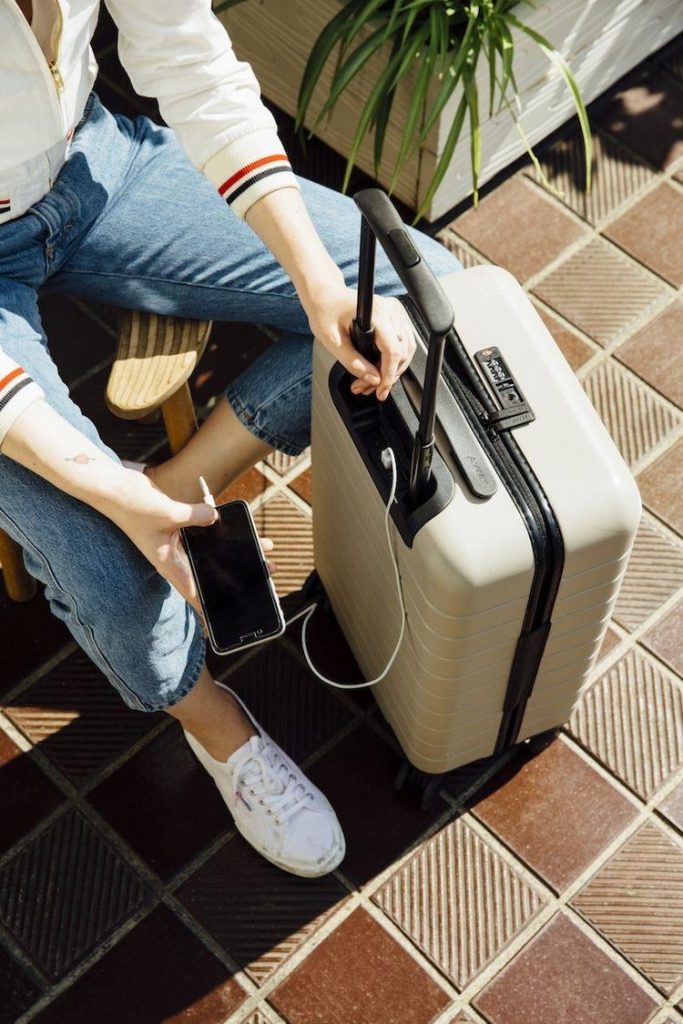 SMART LUGGAGE
I know I'm not alone when I say that one of the biggest headaches during travel is finding a place to charge your phone and other devices. Especially during the holidays when you're juggling so many different parties and events, your phone will be running out of juice a lot sooner. Smart luggage is the answer to this woe. These suitcases come with a built-in battery and are lightweight for easy travel. Genius? We think so.
WATERPROOF TRAVEL BAG
If you're traveling with liquids like perfumes, serums, or hair products, you know all too well the worrisome feeling of if they will spill all over your bag.  This genius waterproof beauty bag from Tancendes will ensure your clothes and belongings will stay nice and dry in the event of an accident.
NOISE-CANCELLING BLUETOOTH HEADPHONES
One sure way to de-stress while travelling? Listening to relaxing meditation music using noise-cancelling headphones. Ear plugs are now a thing of the past. These are essential for blocking out the plane engine, screaming baby, and snoring seat mate. These beauties have over 500 reviews and 5 stars on Amazon.
PORTABLE CHARGER
Having  a dead phone battery while traveling is stressful and unnecessary. Airports often have minimal outlet space and nothing is worse than sitting on a laminate floor waiting to get your phone past 20% battery. Portable chargers are a life-saver. The Anker PowerCore 10000 is sleek and light, plus it has 4.5 stars and nearly 7,000 reviews.
EYE MASK
Eye masks are essential for catching shut-eye while traveling. This soft plush mask has built-in Bluetooth headphones. Perfect for blocking out light and sound.
EYE CREAM
Facial skin becomes dry and eyes become puffy while 30,000 feet in the air. Travel sized eye cream is the solution. This Neutrogena selection is a fan favorite.
FACE WIPES
Makeup and facial skin can also become oily and dirty while travelling. A quick and refreshing wipe might be just what you need after travelling all day. These Simple wipes are also perfect for removing make-up on the go.
COMFORTING LIP BALM
Lips are the first to dry while in the sky. Sun-protecting lip balms are the perfect solution.
PHONE STAND
Some planes offer in-flight entertainment if you use your own device. The problem is, holding your phone for 2 hours can be uncomfortable. Light and portable stands like this one will allow you to relax while you enjoy a movie.
WATER BOTTLE
Staying hydrated while flying is a MUST. S'well water bottles can help you do it in style. One happy customer wrote "Love it! Keeps my drinks ice cold, even in the hot blazing sun."
TRENDY CARRY ON TOTE
Frequent fliers know better than anyone that consolidating items to fit into a carry on makes life so much easier. Space is precious for women that love accessories- so a nice sized tote is a must. This one fits neatly onto roller luggage- and even has a strap to keep it there!
BAG BUNGEE
Over 1,300 Amazon customers agree that this bag bungee makes travel so much easier. Effortlessly carry any bag on top of your roller bag using this simple tool.
TOILETRY BAG
Frequent fliers know how important organization is. No one wants to deal with toothpastes, hairsprays, and face make up spilling and ruining luggage. With 350 reviews and 4.5 stars, this bag allows space for all your make-up, travel sized hair products, and basic toiletries. Plus, it's super cute.
COMFY SWEATER
No one wants to be stuck on a 4 hour flight while freezing the entire time. Comfy sweaters are the perfect thing to slip on once you board. This one also happens to be stylish.
SOCKS
Pair these cozy socks with that comfy sweater. We promise you'll be glad you did!
LOTION
Flying during the winter is a recipe for dry skin. Frequent fliers always have travel-sized moisturizing lotion on hand.
HIGH-QUALITY NECK PILLOW
Basic neck pillows are a thing of the past. Bucky pillows are great for sleeping on the plane and offering lumbar support in the car. They have removable covers and easily attach to your luggae without taking up much space. One customer raved, "These minis are especially great for travel. I have one permanently in my carry-on bag so I'll never be without it."
Next up, 5 things ridiculously successful women always do.

Want to conquer your future?
You'll need a financial plan for that. Here's a free one.